Hive TWO, you'll be making Black, White and Bright 57 blocks for Dorothy.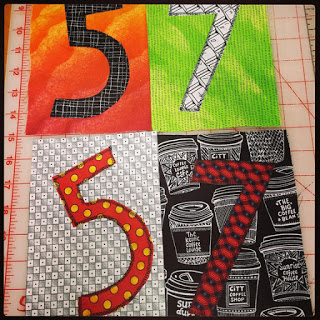 Here's what inspired Dorothy to make these blocks:
"After the January meeting I drove home to Dayton and could not stop thinking about ideas for my block.
That week the Powerball jackpot had gone over a billion dollars, and my husband and I had chosen our numbers based on birthdays, our anniversary, the year our parents got married, our daughter and son's important dates, and of course, the year we were born – 1957.
So part of me was thinking about the lottery, but a bigger part of me was thinking about my block idea!

The number 57 sounded like a good place to start. I have also been collecting black and white fabrics for a long time. And I love the look of bright colors intermingled with black and white. So ….. Black and White and Bright came to mind. And then I thought "Who says the blocks have to be square? Why can't I make mine 5" x 7"?" And then my idea evolved from there."
Dorothy is alternating bright numerals on top of black and white fabrics, and vice versa. She drew the numerals 5 & 7 by hand, then made the templates on plastic. She used fusible web and ironed the numerals onto the background fabrics, then zig zag stitched around them. She cut each background rectangle 5.5 inches by 7.5 inches. Then she sewed them together along the 7.5 inch side, to make one big rectangle that measures 7.5 inches by 10.5 inches.
Hive bees can use their own designs for the numerals - using Roman numerals or you can piece a numeral together instead of appliqueing it.

If you have questions Dorothy can be reached via email.