Well, to start with, a BIG welcome to all of our new members! We're so happy you could come, and we insist that you come back next month (and bring your quilt-lovin' friends). Welcome, welcome!
Make sure to check out our members' blogs (listed on the right). If you're a member and have a blog, let us know so we can add it.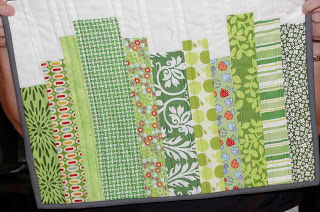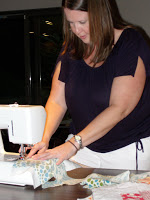 To start the meeting off, Amy T. taught a really great mini-class about making book-shelf inspired placemats.
Aren't they pretty?!?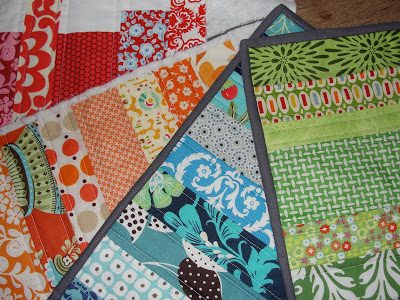 We then progressed to a little show and tell (always amazing)! Here are a few highlights: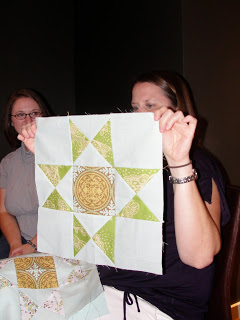 Super-pretty star blocks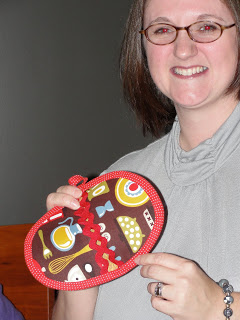 Extremely cute pinchy potholder!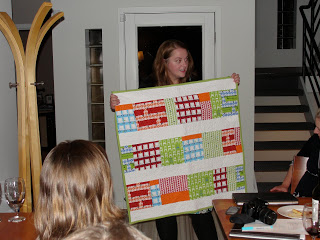 "Tufted Tweets" quilt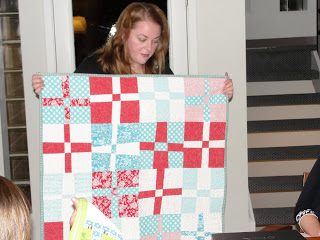 Wonky cross quilt in reds and aquas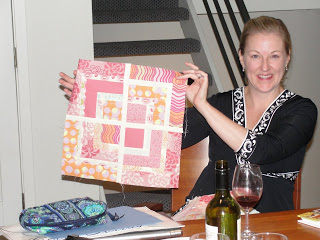 Lovely pink Bento Box blocks


After amazing show and tell (and I didn't even put all the pictures up) it was time for our potholder swap! All so different, but each one was wonderful! I think everyone left very happy—I know I did!
After and during all of the above, there was lots of laughing, tip sharing, tweeting, pretzel eating and wine drinking! You should probably come to the next meeting. I'm just sayin'.
A FEW THINGS TO NOTE!!!!!!!!!!!
There is some fun stuff coming up, so take note!
1. Our next meeting will be October 13 at 7pm. Be there.
2. There is a Saturday Sew-In in the works! Look for a facebook post soon asking about your availability either the first or second Saturday of November. More info to come, but this is an excuse to sit and sew all day with each other. Awesome, yes? (Yes.)
3. At the October 13th meeting we will be swapping . . . . DOLL QUILTS! The only parameter is that the quilt needs to be between 12 and 24 inches. It can be rectangular or square, but no side smaller than 12 inches or larger than 24 inches. This is going to be super-fun, and a really great way to experiment and showcase who you are as a quilter. Just have fun!!!!!!! We'll swap "Secret Santa" style at random.
4. At the October 13th meeting, Heather will be teaching a lesson on appliqué! This one you won't want to miss.
Have a great September, and we'll see you at the October meeting!
- Kelly