Hi All,
My apologies on taking forever and a day to get this blog post up! I hope all of those who were able to attend our October meeting had a great time; if you didn't come . . . be there in November!
So, first off, a big thanks to Amy for hosting our meeting. We'll be back at Sue's, though, for the November meeting. If you need directions or more info, email Heather at
info@carpet-cleaners.info
.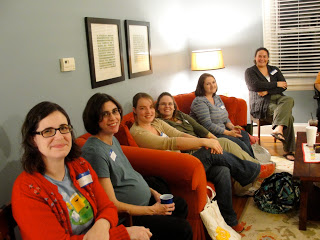 Hi ladies!
Next,
WELCOME
to all of our new members: Jean, Lynn, Janie, Kara and Jess. See you next month, right?
Some important things to note:
Our first
CMQG SEW-IN
will be at Sue's house in Wyoming on Saturday, November 6. Check in on the facebook page for more information and to RSVP in the next week or so. Bring your machines and something to sew. Heather will let us know via Facebook if Sue would like us to bring anything else. Plan on brown bagging your lunch. It's gonna' be sew-rific! (I kind of can't believe i just typed that ... )
We discussed getting the CMQG involved in some charity projects, perhaps with Cincinnati Children's Hospital. If you have any info in how we can get involved, or would like to help motivate that effort, please email Heather or let us know at the next meeting.
QUOTE OF THE NIGHT
: "I just want to eat rick rack. Can you do that?" - Victoria
Some great websites that were recommended:
http://www.houseonhillroad.com/
http://noodleheads.blogspot.com/
http://www.aboveallfabric.com/
OCTOBER QUILT SWAP
: We had a great time swapping doll quilts—I'm sure we'll do a second doll quilt swap soon, so if you didn't get to participate last month, don't despair!
NEXT MONTH'S SWAP (November)
, we'll be doing another direct swap (Secret Santa style) of a set of 4 quilted coasters. They can be any colors/fabrics, etc. These are super-fast, very cute, good for using up scraps and GREAT for practicing new quilt techniques. Check out this great tutorial for directions:
Coasters tutorial from Flossieteacakes
.
DECEMBER SWAP
: So, we're also planning ahead for the December Swap. At our December meeting, we'll be swapping Mug Rugs - small quilted placemats big enough to hold your coffee/tea mug and a snack! IMPORTANT: If you'd like to participate in the December swap, please bring a mug to the NOVEMBER meeting; we'll trade mugs at that meeting and our swap partners will make our Mug Rug to coordinate with the mug we brought in. If you'd like to participate, but can't make the November meeting, email Heather or leave a note on this blog or facebook, and we'll work something out.
SHOW AND TELL
: We had a GREAT show and tell this month! Lots of talented members in the CMQG. Here are a few of the highlights - thanks for sharing, ladies, and keep 'em coming!
APPLIQUE TUTORIAL
: Heather gave a great tutorial on raw-edge applique, like what she does for her gorgeous children's clothing at her site,
Olive and Ollie
. Thanks, Heather! I suspect we'll be seeing a lot of appliqued items at upcoming meetings!
THE NOVEMBER MEETING
will be extremely important. This is not one to miss! And if you haven't made it out to a meeting yet, please try to come in November (the 2nd Wednesday of the month). Come armed with suggestions and brainstorming ideas for the direction you would like to see the CMQG go: more Sew-Ins? more charity projects? a retreat? etc. . . . . We will also be looking for volunteers to head-up some various aspects of the CMQG! This is a very exciting time, so please come with plenty of ideas so we can all help move this group forward! (Did I use enough exclamation points? !!!!!! .)
Don't forget, bring your 4 quilted coasters to swap, and a mug to trade for December's swap (read more above). I'll be teaching a short tutorial on paper piecing, which will most likely be completely riveting. Don't miss it.
Have a great month, Happy Halloween, and we'll see you in November. Check the facebook page (
CMQG Facebook
) frequently for new items of interest and for changes to anything you see here.
- - - - Kelly