September 9, 2015
St. Clare Convent
President Michelle Kirby presiding
Business
Visitor Letter:
Michelle handed out a copy of a letter that will be given to all visitors to the guild, starting with the September meeting. The letter welcomes the visitor and explains who we are and what we do, making it clear that this is a modern guild. The letter will hopefully help prevent lengthy discussions about the guild's purpose during guild meetings.
Election for 2016 Officers:
Start thinking about running for office in 2016! Elections will be held in January 2016 with the new board taking over in February 2016. All members are encouraged to run for any of the five positions: President, Vice President, Secretary, Treasurer, and Member-at-Large. See Michelle for more information or to get your name on the ballot.
Heather Jones Book Signing:
Heather will be at Sewn Studio on Wednesday, October 7
for a discussion and to sign copies of her new book Quilt Local. Preregister at Sewn, and preorder the book from Sewn for a 15% discount. The event will be held from 6:30pm to 8:30pm.
Charity Update:
The members working on the QuiltCon charity quilt have started to sew the fabrics together. The white improv-pieced fabric will be the background; the teal fabric will be one of the seven hills.
Make-It-And-Maybe-Take-It:
Kara kicked off the second installment of Make-It-And-Maybe-Take-It by handing out fat quarters of
Dear Stella
fabric to the participants. Each participant is to use only the fabric they receive plus white to make as many modern Ohio Star blocks as they wish. Blocks are due in October, and one lucky participant will go home with all the blocks! A huge thank you to Dear Stella for donating the fabric!
Round Robin
The participating members brought their Round Robin blocks to share at the September meeting. The final found of blocks is due at the November meeting.
Abby made three star blocks for Brooke: this one and the next two below.
Annie had Carrie's nature-themed quilt and added some camping blocks including this fire block and two some tent blocks.
Annie also make this block of Carrie's home state of Wisconsin, a lovely place to go camping.
Brooke made this block for Ellen.
And she mixed the pattern up a bit for this block.
Carrie made this block for Annie.
Ellen very sweetly made this starter block for Kara to replace Kara's medallion round robin quilt that got lost.
Janine made these blocks for Shon(n)a.
Kara made a few confetti blocks for Kathy.
Kathy made some feather blocks for Abby.
Robin made some asterisk blocks for Wendy. See also below.
Shona added a border to Ellen's quilt.
Show and Tell
Amy finished her Betsy Bag.
Brooke made this hexi-bottom bag for a pirate swap on Instagram. See next two photos, too.
Carrie has been working on her millefiori blocks. See the one below, too.
Carrie made this for a mini quilt swap.
Dana made this double-sided baby quilt.
The back is a modified Drunkards Path.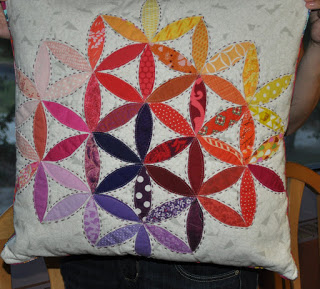 Dana also made this fusible web applique pillow.
The back of the pillow.
A Dr. Seuss quilt Dorothy made for the older brother of twins.
One of Dorothy's quilts for the twins.
Kara's friend Elizabeth made this quilt for Kara.
The back of Elizabeth's quilt.
Kayla's quilt for her daughter's big-girl bed.
The back of Kayla's quilt.
Robin is having a baby soon, but she doesn't know the gender. So she made a boy quilt . . .
The back of Robin's boy quilt.
. . . and a girl quilt!
The reverse of Robin's girl quilt.
Education
This month, Brooke's education segment was all about making traditional blocks modern. First she broke down some of the differences between modern quilts and traditional quilts. Typically, a modern quilt includes bright, solid and/or graphic fabrics. Modern quilts sometimes incorporate a lot of negative space or giant blocks and often there's an element of improv to them (or at least a lack of rules).
With this in mind, Brooked showed examples of three traditional blocks made modern: the Log Cabin, Churn Dash, and Dresden Plate blocks. She also included pieces made by CMQG members.
Ellen's modern Log Cabin.
Christine's modern Churn Dash.


Ellen's modern Dresden Plate.
For our Education Challenge, we are to create modern Ohio Star blocks. Everyone who brings a modern Ohio Star block to the October meeting will have a chance to win a prize!
Brooke's modern Ohio Star quilt.