August 12, 2015
St. Clare Convent
President Michelle Kirby presiding
Business
Charity:
Quilt Con Charity Challenge: Our team gathered solid fabric of all the challenge colors and has decided on a tentative pattern, one that will evoke the seven hills of Cincinnati. The team has started to improv piece the hills using prints that match the challenge colors. They're off to a great start! The finished quilt is due in February.
Janine used a great polka dot fabric for the backing and binding of this charity quilt for the Northern Kentucky Children's Home. Ellen M. and Shon(n)a pieced the quilt top and Janine quilted it.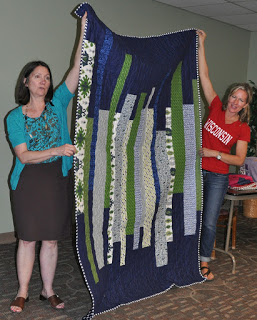 New Member Business:
Anna has opened the
HootnHaller Studio in Yellow Springs
. There she offers quilting, sewing, and knitting classes, long arm services, long arm rental, and a great space for retreats and events. Congratulations, Anna!
Round Robin:
Tragedy struck one of the round robin groups—Kara's medallion quilt top has been lost.
September Meeting:
Round Robin: Bring the next round of Round Robin blocks to show.
Make-and-Maybe-Take: Those who have signed up for the Make-and-Maybe-Take with Kara will receive their Dear Stella fabric at this meeting. The blocks using those fabrics are due at the November meeting.
Education: Brooke will teach us about making traditional blocks modern.
Education Challenge:
Two members added sleeves to their projects using the techniques they learned from Ellen at our July meeting.
Kay added corner tabs to her wallhanging.
Here's the front of Kay's piece.
Robin added a full hanging sleeve to her quilt.
Education
This month members were asked to bring their favorite tool or notion to share with the group. Those who wanted to participate swapped their tools with other members.
Amy brought TrueGrips to place on the back of an acrylic ruler to prevent it from slipping.
Carol brought this ruler that has holes in it that you can use to draw different sized circles.
Carolyn adds beads to a stylus and uses the stylus for turning corners.
Guest Cecilia brought variegated thread that she purchased from Thread Art.
Because great minds think alike, Brooke also brought variegated thread. Watching it as she winds her bobbins just makes her happy.
Dorothy brought her Pandora's Box plastic templates.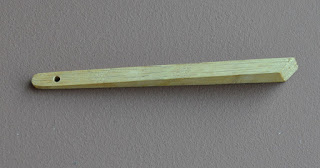 Dorothy also brought a wooden iron she uses to press seams when paper piecing.
Michelle brought cuticle sticks that she uses to turn corners and to hold fabric down when sewing.
Teresa brought Wonder Clips that she uses when sewing zippers and when sewing laminated fabric or vinyl that you can't pin. They're also great for keeping stacks of blocks together after you've laid out a quilt.
Wendy brought a wallpaper roller that she uses to press seams when paper piecing.
Anna brought Folded Corner Clipper templates for making flying geese.
Kay brought silicone fingertips to prefer burns when she's pressing small pieces.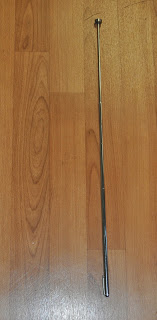 Susan brought a telescoping magnet that she uses to pick up stray pins and larger items since the magnet is so strong.
Betsy Bag Class
The Betsy Bag class, sponsored by the guild and taught by Kristi McDonough, was held in July. About 15 people attended the class. The first attendees to finish their bags brought them to show in August.
Holly's Betsy Bag
Michelle's Betsy Bag
Sister Ann's Betsy Bag
Susan's Betsy Bag
Carolyn's Betsy Bag
Show and Tell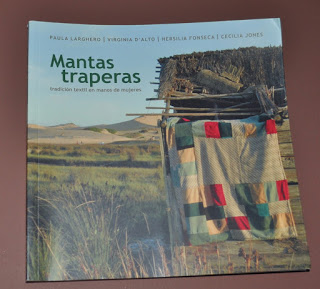 Cecelia was visiting the Cincinnati area from Uruguay, and she came to our meeting. She shared with us this book that she and some of her guild members published featuring traditional quilts from her country.
Cecelia played with values in this quilt for her son.
The back of Cecelia's quilt.
Dorothy's quilt that she'll be giving as a gift.
The other side of Eli's quilt.
The back of Heather's quilt.
Holly's baby quilt. For the backing, she used minky fabric.
Kara's first curved piecing project—the Double Wedding Ring.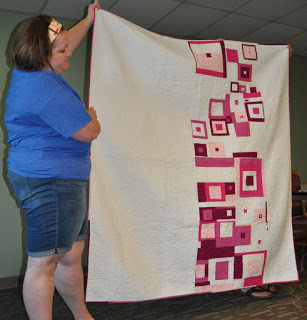 Kara's quilt made with 10-inch blocks.
Michelle made these Christmas placemats from a Jacquie Gering pattern.
Michelle's quilt for her oldest daughter. After this one, Michelle is done with half-square triangles for a while.
The other side of Robin's Stash and Dash.