January 14, 2015
Centennial Barn
Secretary Christine Doyle presiding

Business
National Dues: The national Modern Quilt Guild dues were due this month. As you may recall, we joined in July of last year and paid for half the year. Now our dues will need to be paid in January. Michelle has paid based on our December membership.
Guild Dues: Normally, we would begin collecting our guild dues in February, but because the national guild dues needed to be paid, we are starting our dues collection early. Dues are $40 per year. With that money we pay the national guild and fund projects here in our own guild. If you did not pay at the January meeting, please bring a check or cash to the February meeting.
Guild Elections: At the February meeting, we will be electing officers for 2015. There's still time to sign up, if you're interested in running. Just e-mail Michelle. The positions available are President, Vice President, Secretary, Treasurer, and Member-At-Large.
Charity Update: Ellen is working on finding a children's charity to which we can donate quilts. The Homeward Bound organization at the Brighton Center in Northern Kentucky suggested we contact the Children's Home of Northern Kentucky, which Ellen will do next.
FAB Collective:
Susan Austin told us about a new group forming at the Barn in Mariemont. It's the Fiber Arts at the Barn Collective, and Susan is in charge of finding instructors to teach fiber arts classes. There will also be regular meet-ups for fiber arts enthusiasts. To learn more, contact Susan at
FABulousfibers2015@gmail.com
or check out
artatthebarn.org.

February Meeting: For the guild challenge, make a name tag if you haven't done so yet. The meeting will be Wednesday, February 11, at 7pm at the Centennial Barn.


Round Robin
This month starts the next session of Round Robin quilts. For those of you not familiar with these, whoever wants to participate brings a starter block. This starter block gets passed around to other members of the team who make a block to go with that starter block. Each team member has two months to make that block, which then gets brought to a meeting and gets passed to someone else on the team. The person who initiated the block can include fabric they want the team members to use or list guidelines they'd like the team to follow.

Here are some photos from the first round:

Brooke's round robin is a star quilt–any pattern, any size. She'd just like them all to have a navy background.
Wendy would also like a star quilt. Or asterisks are good, too.
Robin provided a book of quilt blocks and jewel-toned fabrics for her quilt.
Kathy is looking for help finishing up a confetti quilt she started. Team members will be asked to make a confetti block with her pattern and white background fabric.
Janine would like her round robin quilt to be winter themed.
Ellen M. would like a quilt with red fabrics and white prints for the background.
New member Ellen is looking for her team members to make blocks similar to this one with jewel tones and neutrals.
Carrie make this block a while back, and now it's the starter block for her nature-themed round robin quilt.
Lesley created packets for each team member to use and add their own fabrics to.
Kara would like this to be the center of a symmetrical medallion quilt.
Annie would like more of this same block using fabrics she provided.
Show and Tell
Robin made this Christmas Swoon quilt in time for the holidays.
The back of Robin's Christmas quilt.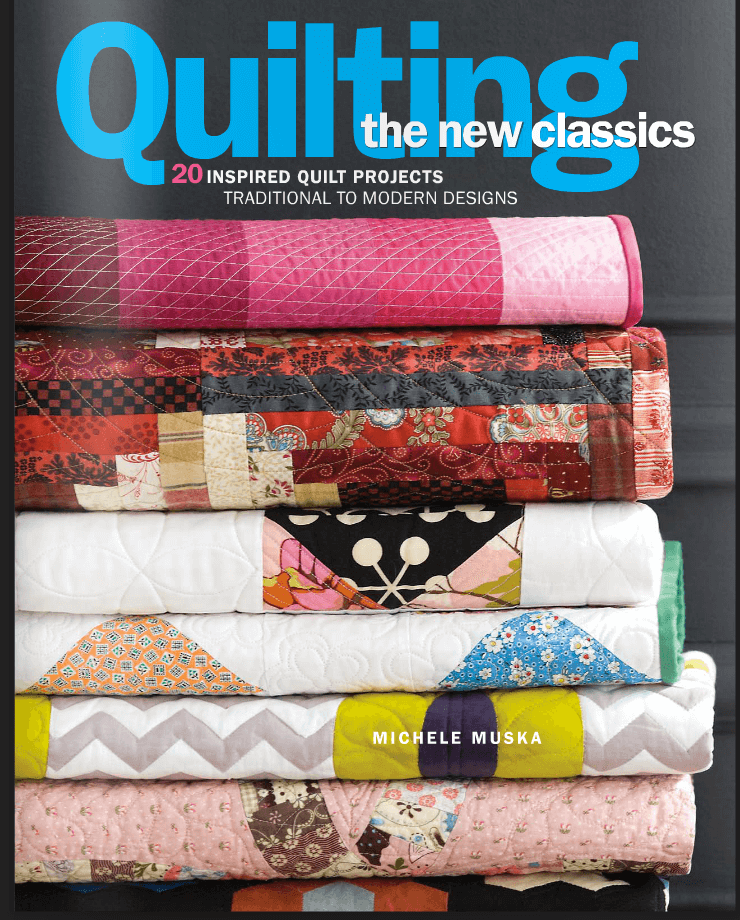 Carolyn found this book at the library and is really liking the comparisons between traditional quilts and modern quilts.
Lesley made this quilt for the grandchild of a friend.
The back of Lesley's quilt.
Annie worked on this charity quilt using donated fabrics.
The back of the charity quilt.
Abby made this for a mini quilt swap.
Brooke made this for the same mini quilt swap.
The back of Brooke's swap quilt.
Carrie's mini quilt for the same swap.