Here are the instructions for HIVE TWO to make Amy G's February bee block. (
Refer to the set of Bee Guidelines here.
)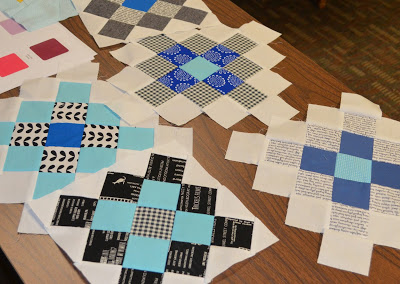 GRANNY SQUARE BLOCK in Blues, Gray, Black and White for Amy G.
For this month's block I chose a Granny Square block made by using the Granny Square Quilt Block Tutorial by Blue Elephant Stitches. It is a relatively easy block to do, and uses all 2.5 inch squares so it is good for using up scraps or leftover charm squares.
FABRIC REQUIREMENTS: ( All squares are 2.5 inch squares)
1 center (or "baby" ) square
12 Kona white squares (I will provide 3 charm squares for everyone, which should make 12 squares when cut into fourths)
I would like this quilt to be varying shades of blue, gray, black and white. You don't have to use all of these colors in your block, just please don't use any additional colors in your block. I used a combination of solids and small scale tone-on-tone prints and I think this works well for good contrast so that the granny square pattern shows.
I am also on Instagram as Indigo_Stitches if you need to refer back to my samples.
The link to the tutorial can be found here.
The only difference is that I would like my center block to be a contrasting color, so instead of 5 squares in one fabric that the tutorial calls for, I would like 1 center block and 4 "mama" blocks.
Also, you can omit the step for squaring up the block, that way I can trim them all down to size before I sew the blocks together.