April 9, 2014
Cincinnati Modern Quilt Guild Meeting

Bag Swap
Four members participated in the bag swap.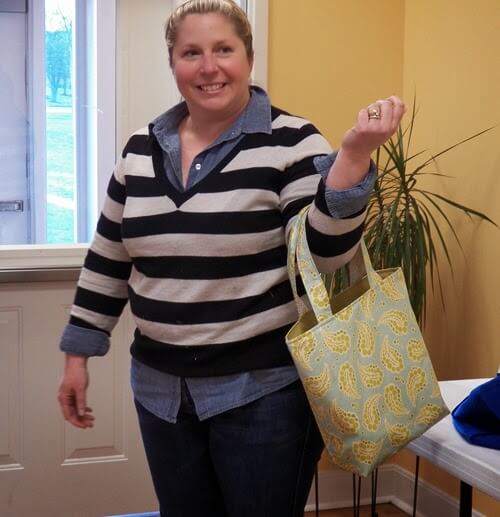 Andie received Christine's tote.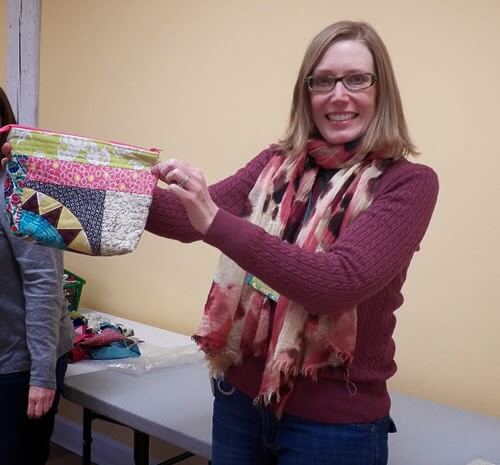 Christine received Andie's zippered pouch.
Kim received Brooke's drawstring bag, and Brooke received Kim's bag with the decorative stitching.
Business
Participation Program:
Starting with the April meeting, members will earn a raffle ticket each time they participate in a guild activity. Randomly a couple times each year, a name will be picked from the bin of tickets, and the winner will receive a prize package of goodies. Raffle tickets can be earned for the following activities:
Signing up for and bringing a snack item to the guild meeting
Participating in guild challenges
Participating in guild swaps
Bringing an item for show and tell
Attending guild sew-ins
Conducting a guild education session
Finishing MQG fabric challenges
Modern Quilt Guild Showcase at International Quilt Festival and Market: There's a call for entries to participate in a Modern Quilt Guild Showcase. Submissions will be accepted from May 30 to June 27. The quilts for the show will be chosen and the makers will be notified on August 1. Click here for more information and for the entry form.
Help with Entry Fees: To encourage our members to participate in the above shows, CMQG will reimburse you for $15 of your entry fee! One $15 fee-reimbursement per member for 2014.
May Meeting: Bring back your Traveling Quilt/ Round Robin blocks and show them off!


Tool Share

Members were asked to bring their favorite tool to the April meeting and tell the group a bit about it.
-->
Here are a few of the products and ideas that were shared:
Apply moleskin to your machine to act as a seam allowance guide. Or use a stack of sticky notes and peel off the bottom one when it's no longer sticky enough.
Use eyebrow trimmer to cut your seams.
Use 1/4" wide Wonder tape for small seams like on doll clothes.
Use Micron pens to color in a bit of applique you might have missed and to sign a signature quilt.
Use a screwdriver to help turn applique pieces and corners.
Clean out your bobbin area with a clean mascara wand.
Mark stitching lines with Chaco liners in blue, yellow, or white.
Ask the hospital for any scissors they use on you while you're there—they're sharp and will just get thrown away otherwise.
Measure your quilts with a 120-inch tape measure. And put some blue painters tape on the 0 end so you can identify it quickly.
Draw curves with a flexible artist's ruler from the art area of the craft store.
Keep a water pencil at your ironing station and apply the water to get crisp folds.
Get clean pizza boxes from restaurants to organize quilt block and sections.
Make great flying geese with the Quilt in a Day Flying Geese ruler.
Use long thin tweezers to hold the top edge of your fabric as you sew the first stitches, so the fabric doesn't get caught in the machine.

Snack Time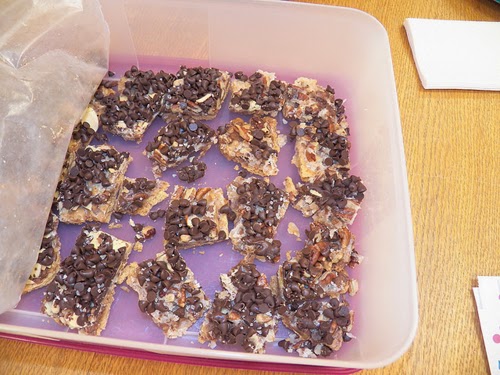 If you'd like the recipe for the Salted Toffee Graham Squares that Kathy G. brought for snack, click here. Thanks, Kathy!


Show and Tell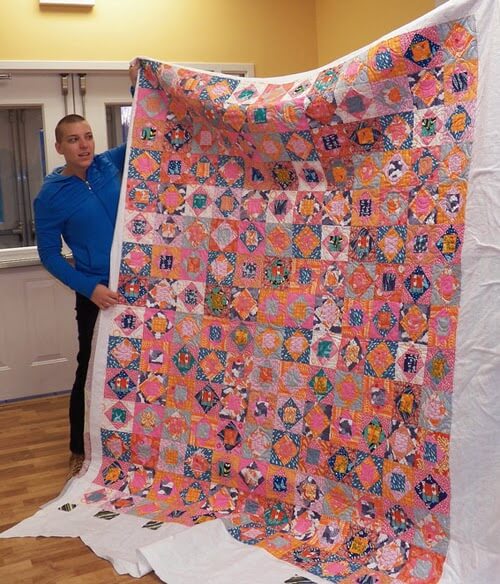 Carrie made this quilt using all fabrics her daughter picked out. Jill did the quilting.
Brooke brought in her Stars Pop Star quilt, also quilted by Jill.
Andie used the You Hexie Thing ruler and raw-edge applique to make this quilt top in about an hour.
This quilt Andie made just for herself using the St. Louis 16 Patch pattern and fabrics from her stash.
Andie used the same pattern to make this quilt for a friend battling leukemia.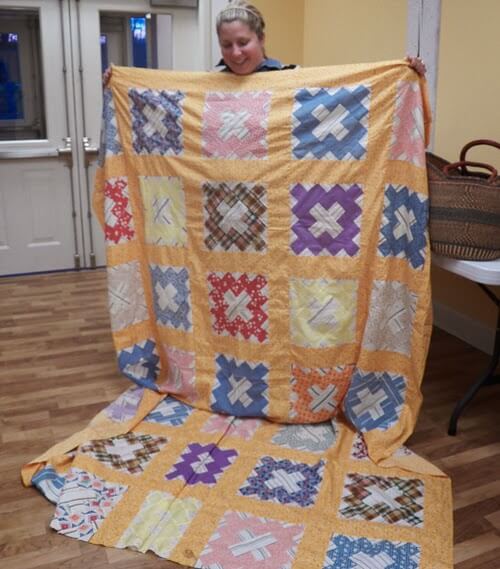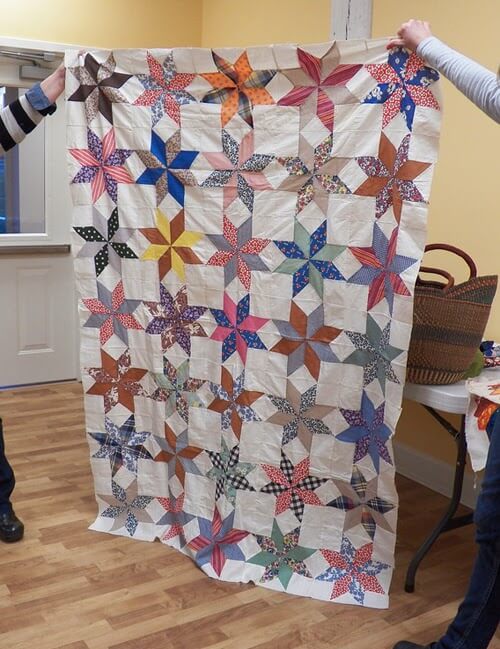 Andie was the grateful recipient of some vintage quilts, one made by her grandmother in 1935 and the other made by her great-grandmother in 1924.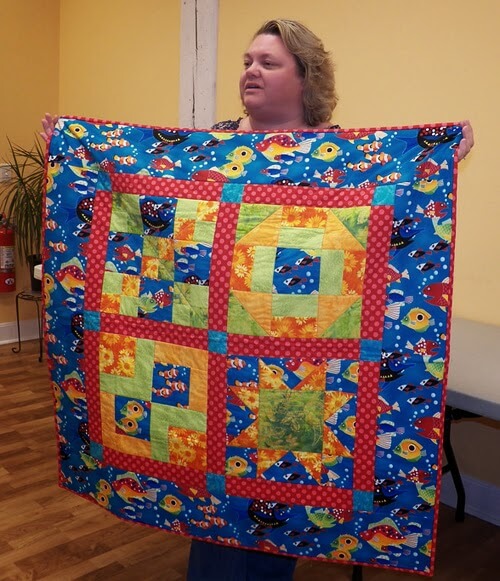 When Kim took the fabrics for this quilt to the counter for cutting, the ladies at the quilt shop said, "Those fabrics don't go together!" Yep, they do. And the ladies at the quilt shop agreed when Kim brought back the finished quilt. Go, Kim!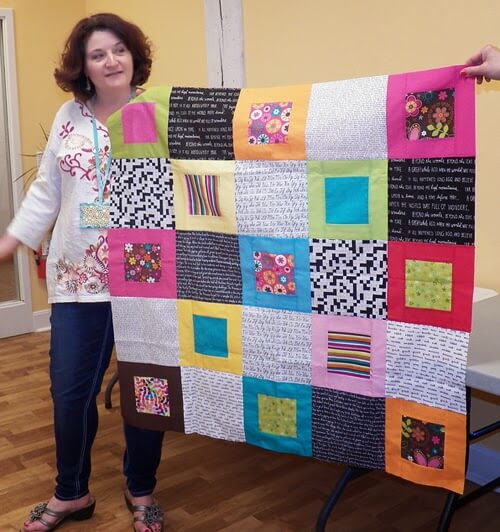 Nancy used a charm pack she received for Christmas and her stash of text prints for this baby quilt.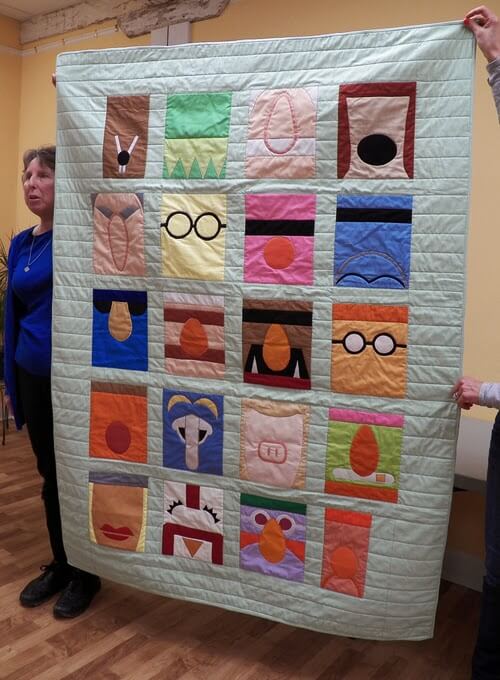 Kathy made this quilt for her grandchild based off the Modern Minimalist Poster by Eric Slager. Before making the quilt, Kathy contacted the artist, who was thrilled to give his permission.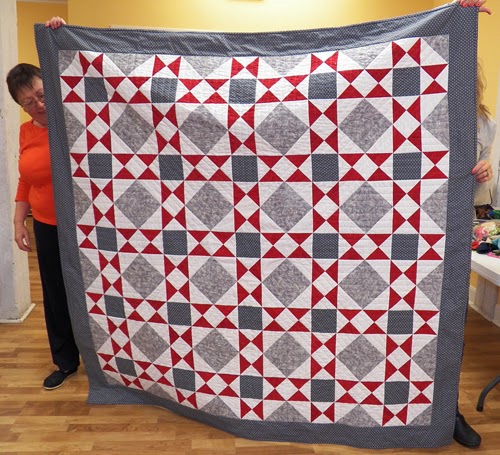 Kay made this quilt for her son who attended Ohio State and recently proposed to his fiancé there.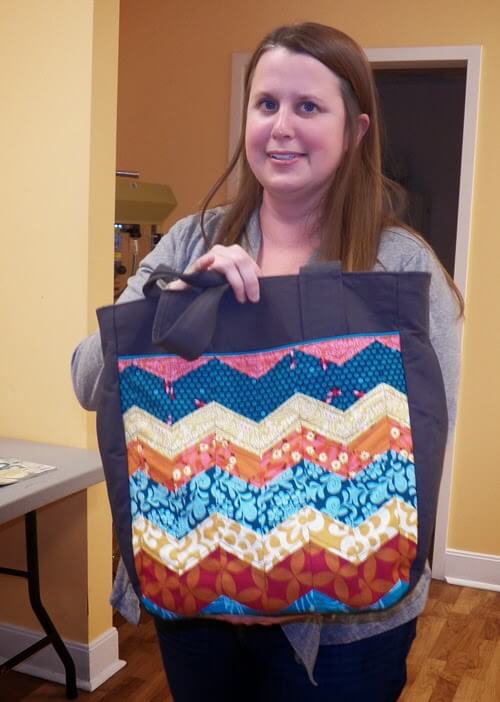 Amy made this Super Tote using a pattern by Noodlehead.
Pam finished up her University of Kentucky quilt, which she'll be giving as a gift.
Jill made this quilt using a free pattern from Patchwork Times for her step-cousin who got married.
Ellen finished up her Do Good Stitches quilt top using the pink and orange blocks she requested from her group members and adding pops of green for leaves.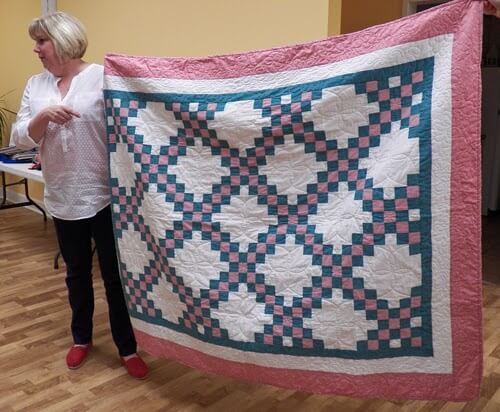 Karen wanted to finish this Irish chain UFO before she started anything else. And she actually did it!
Michelle made this quilt for her brother's birthday.
Jessica made this bag from leftovers from a St. Louis 16 Patch quilt; she uses the bag for her cross stitching projects.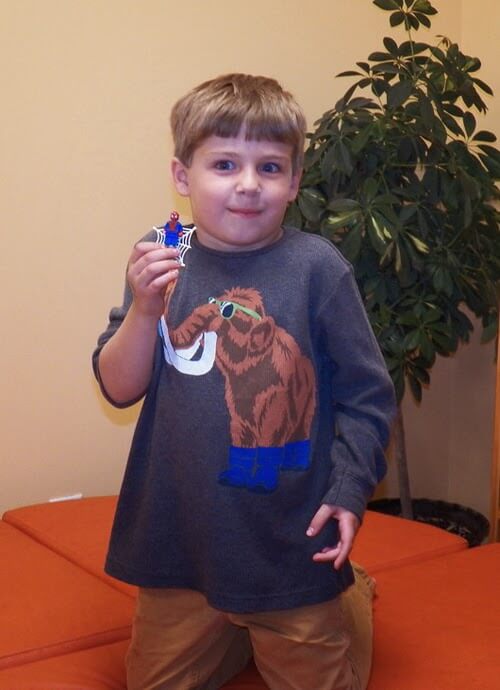 Hendrix shared the Lego Spider-Man he received for being 5.