*Our exhibition ideas for the next International Quilt festival in Cincinnati have been emailed to Carmen.
*Thanks to everyone who contributed to our post card fund. We ordered 250 postcards as well as some business cards that we will use as memberships cards.
*The Habitat Challenge fabric is here (sign-ups are closed). The challenge will be sewer's choice: make what you want but you can only add solids or other Habitat fabrics

. Projects are d

ue at next month's meeting on August 10th.
* Our next Sew-in is August 27th 10-3.

The first part of the sew-in, from 10-12, will be charity sewing. Loretta will bring kits for us to use, and the blankets are donated back into the community. Note: There is a change in paying to participate in the sew-in. If you pay in advance, the cost is $5 which you can bring to our August meeting. If you pay at the door, the cost is $7.
*Challenge 4 of Project Modern is "find your own voice."

Denyse Schmidt is the judge; projects are due September 30th. More information can be found here

.
*Looking for a quilt road trip: the Speed Art Museum in Louisville has a quilt display.
*The August Swap is an embroidery block swap. Make one 12 inch block – your choice of design/pattern. No sign-ups needed.
*Victoria did another awesome demo to prepare us for the August swap. She brought all sort of supplies for us to get our stitch on. Check out the concentration of these ladies: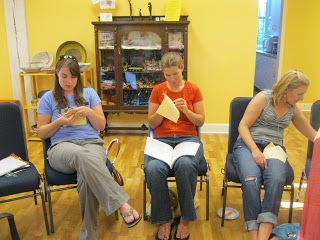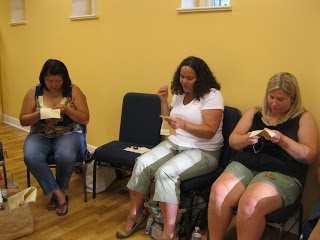 And to cap things off, another wonderful show-tell. Love the creativity of our guild!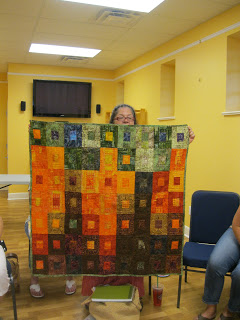 Victoria's submission to the third challenge of Project Modern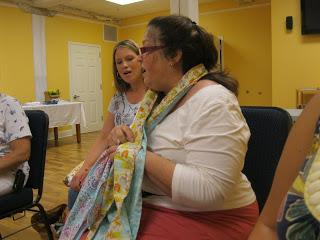 And some beautiful voile scarves - so soft!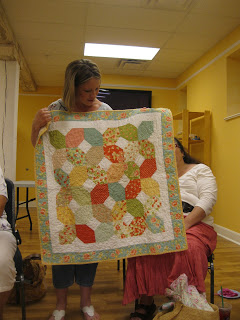 Sarah's baby quilt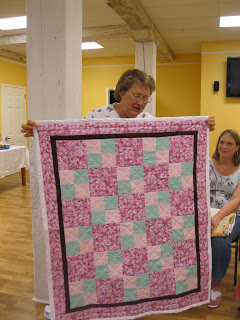 Sister Ann's charity quilt - first one she's machine quilted!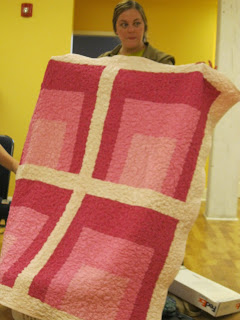 Heather's auction quilt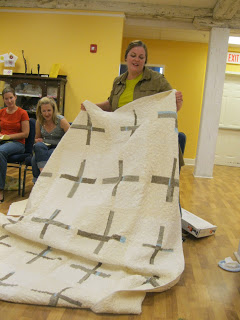 And her submission Project Modern's 3rd challenge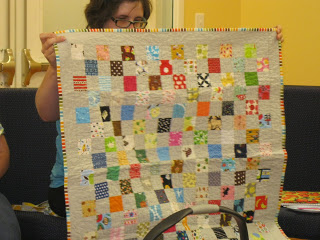 Gillian's been busy with a baby quilt...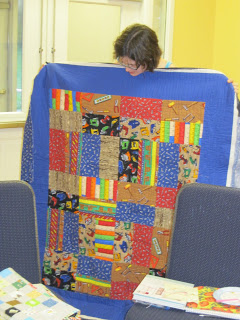 and one for her son...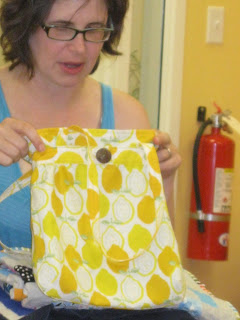 and some bags!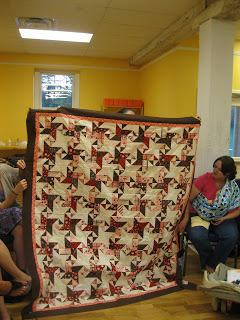 Jill's hiding behind this huge quilt she made!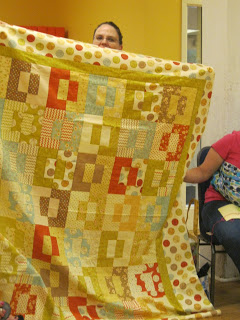 She peaked out to tell us about this one.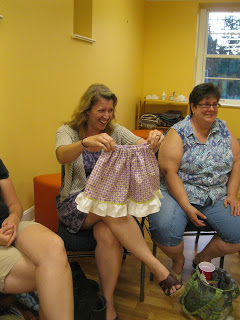 Sarah's skirt for her daughter.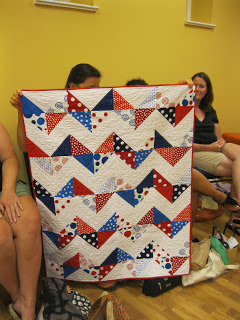 Janie's nautical baby quilt.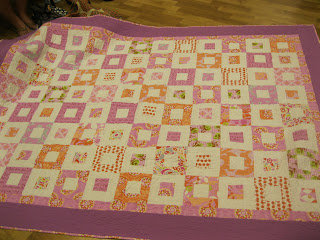 Christy's graduation quilt, which she gifted to a relative, and then asked for it back to bring to our meeting. Love it!