May 14, 2014
Business
Snacks: Pam is our new snack chairperson. Sign up with her to bring a snack to one of the meetings for the next three months. Remember, people who sign up and bring a snack get a participation ticket!
Giveaway Quilt Challenge: Create an original quilt pattern sketch and enter it into this contest. The winning design will be made into a pattern to be sold to benefit MQG, and the winner will receive a prize of $500.
Click here for details
.
Michael Miller Challenge: The deadline for this challenge has been extended to July 25! Make your quilted item using the fabrics we received and upload an image of the item to the MQG site by that date. Remember, the Cincinnati Guild is encouraging you to make a quilt to donate to Project Linus.
Modern Quilt Guild Site:
Log into the site and check it out! And be sure to stop by the
Cincinnati Guild group
and the
community forum
. Once you sign up for the site, you'll receive e-mails for upcoming events including great webinars.
Original Creative Festival: This event is looking for modern quilts to display at their show. If you'd like to have a quilt on display, bring it to the June 11 meeting. The guild will get the quilts to the show and have them at the July meeting for you to pick up. All quilts need a hanging sleeve. E-mail info@carpet-cleaners.info if you plan to bring a quilt.
June 12-14
Sharonville Convention Center
Cincinnati Maker Faire:
This unique event is taking applications for makers to participate in the festivities being held September 13 and 14 at Cincinnati Museum Center. As a guild, we'll apply, and if we're accepted, we'll be looking for members to display their quilts and work the booth to demonstrate and educate. (We wouldn't be selling anything at this show
—
it's all about sharing and teaching.)
Click here for more information about Cincinnati MakerFaire.
Show and Tell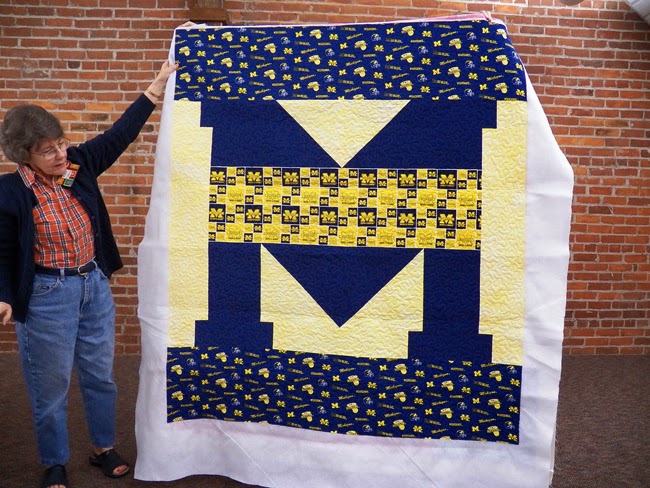 Carol made this reversible quilt for a niece who's having her first baby.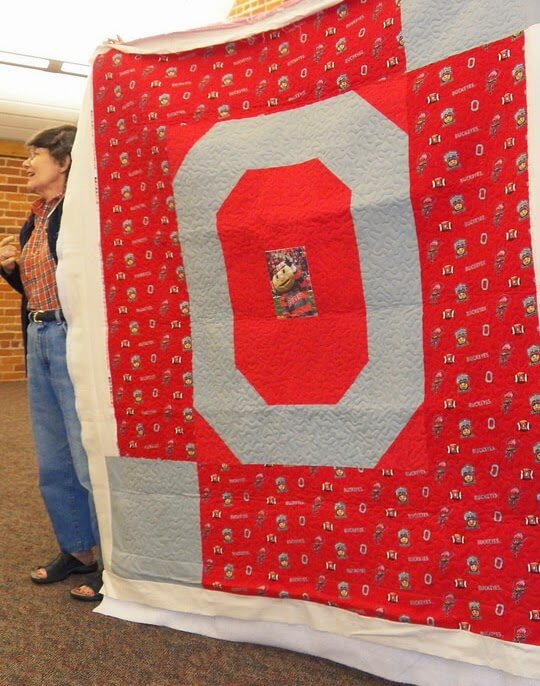 The back of Carol's quilt.
Carole made this in a challenge to make a piece inspired by an emotion. Her emotion was confusion.
A baby quilt Carrie made.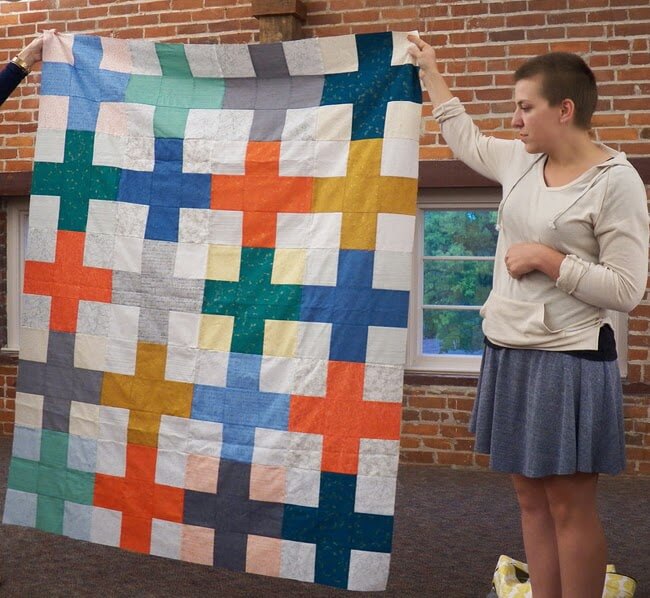 This quilt by Carrie uses Botanics fabrics by Carolyn Friedlander.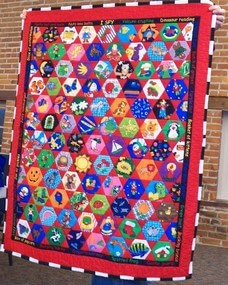 Cass made this panel quilt and put flannel on the back.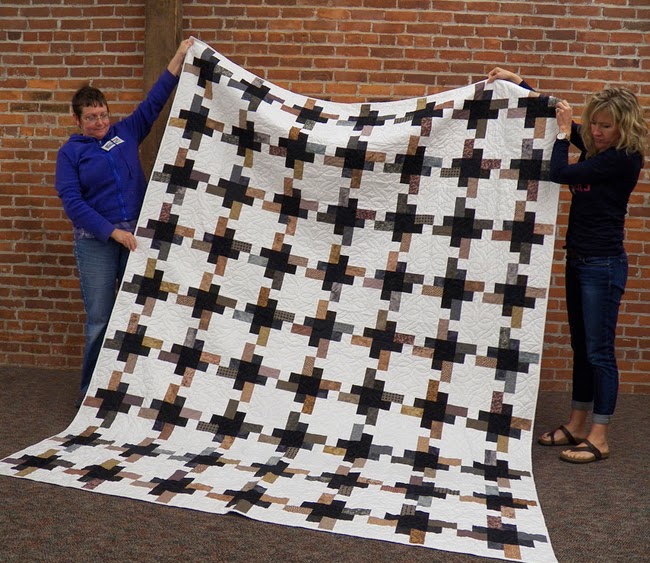 The front of a quilt Cass made for friends getting married.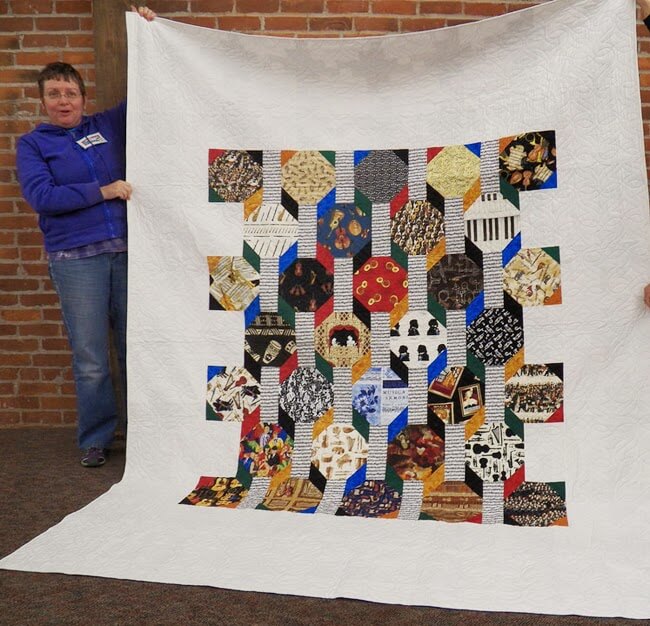 Since the friends are into music, she used some music novelty fabrics for the back.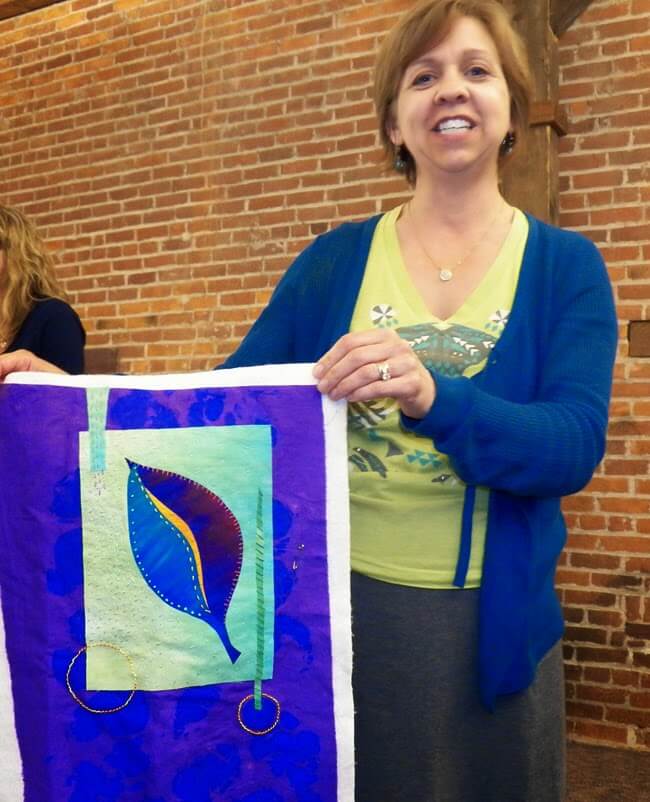 Janice made this piece in a workshop where she learned a gluing technique.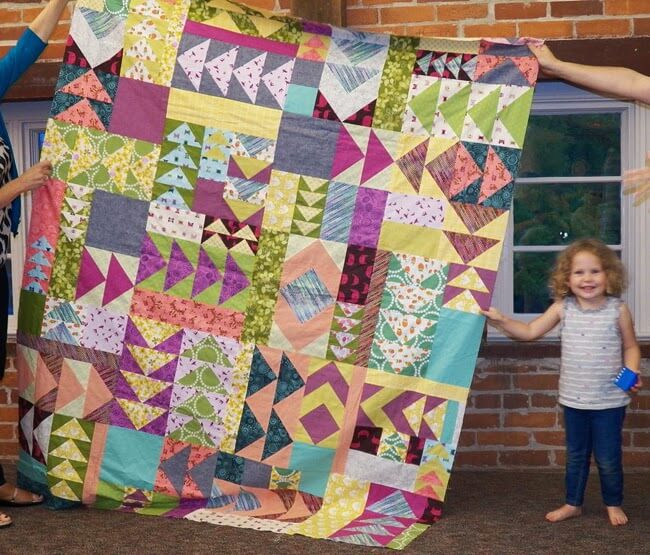 Jessica is making this quilt for her daughter Elsie, who seems to like it!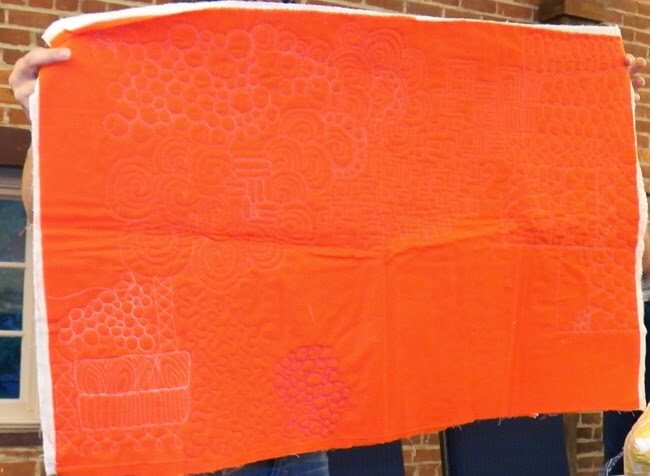 Jessica brought the machine stitching sample she made in the Angela Walters workshop at Sew Down Nashville.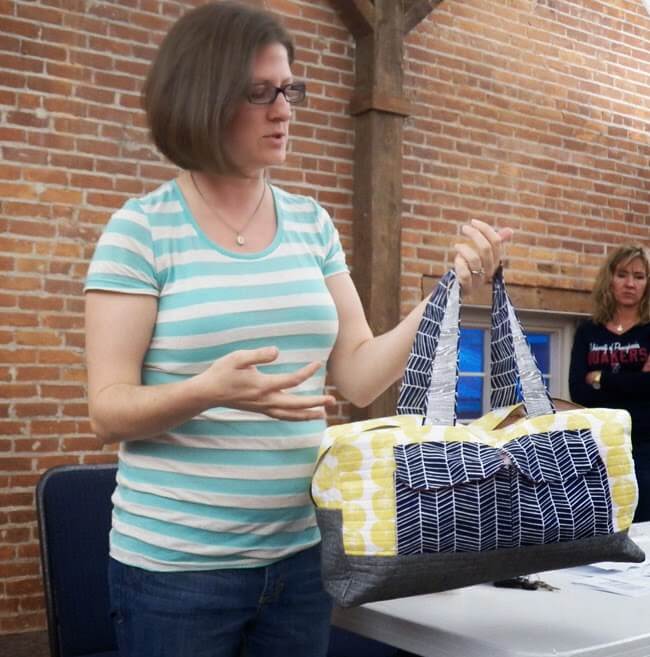 In preparation for Sew Down Nashville, Jessica made this cargo duffel.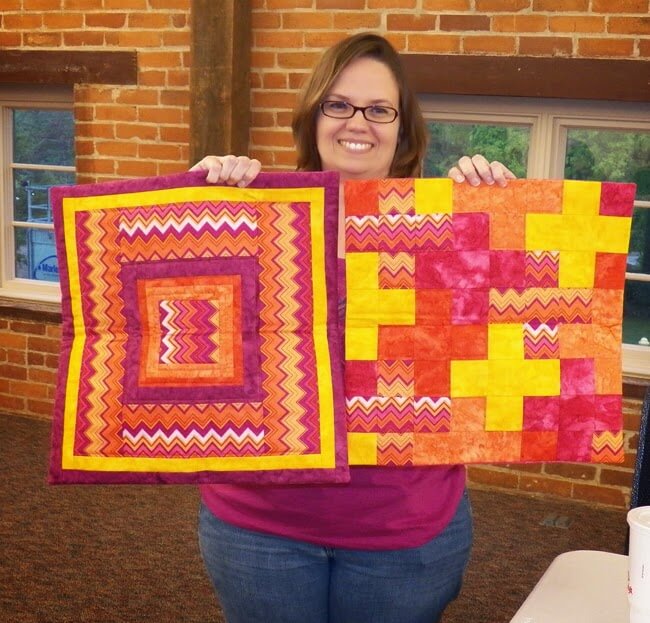 Jill made these pillowcases to match a wedding gift quilt she's working on.
Christine made this messenger bag for summer.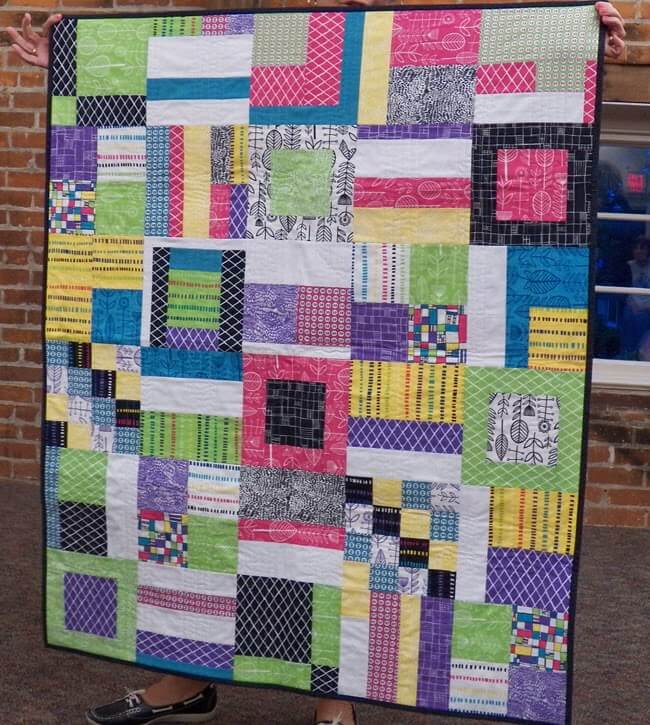 Kathy made this quilt from her fabric stash—she hasn't bought fabric since before Christmas!
Kathy made this quilt for a nephew who's getting married using their wedding colors.
The back of Kathy's yellow and gray quilt.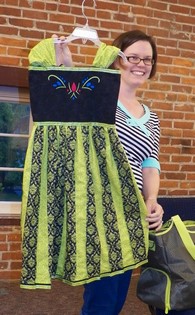 Kayla has made dresses for her daughter in the past from this pattern, but this time she made it to look like Anna's coronation dress from the movie Frozen.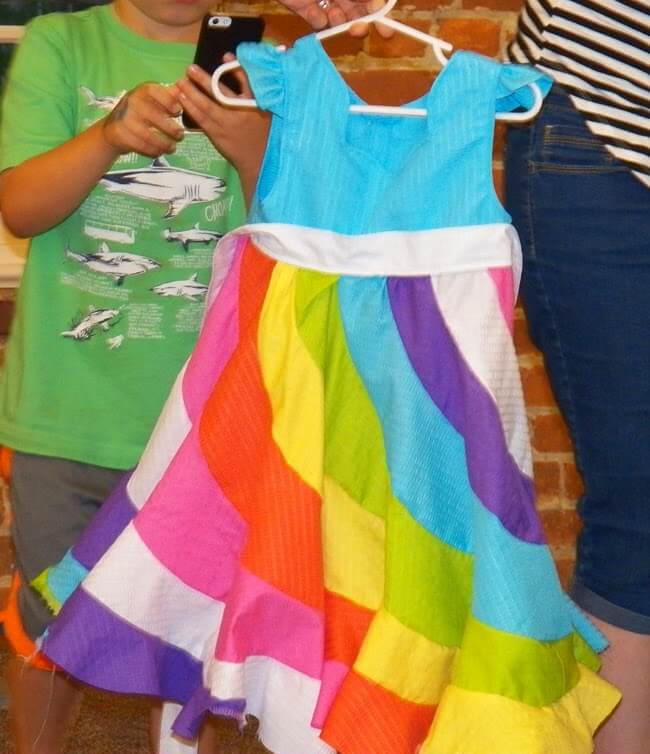 Kayla made this dress for her daughter who is a fan of Rainbow Dash from My Little Pony.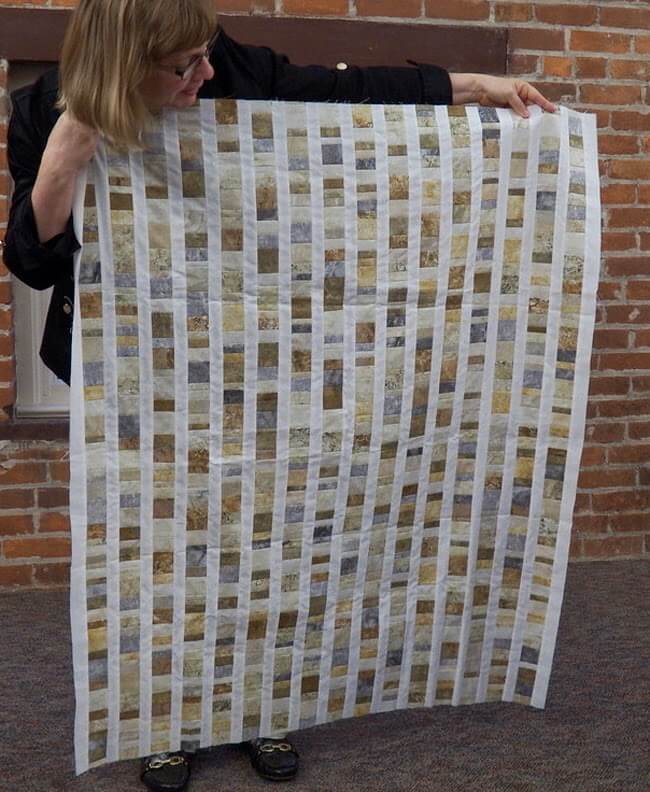 Peggy is a beginner quilter, but she tackled the tiny pieces in this top and did a fabulous job.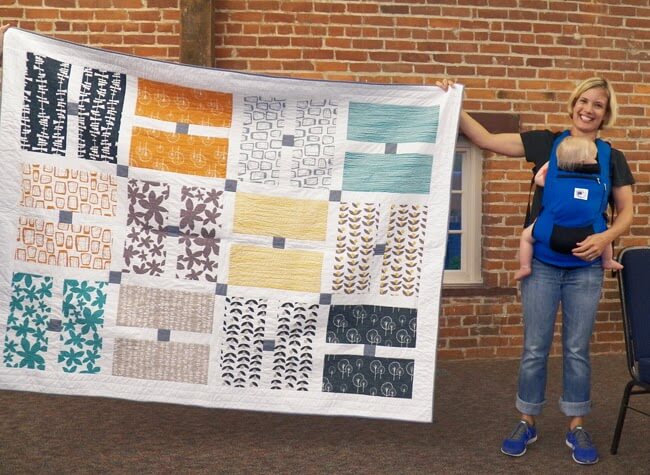 Robin finished her quilt using Lana Jansdotter fabrics (and she brought her little one to the meeting, too).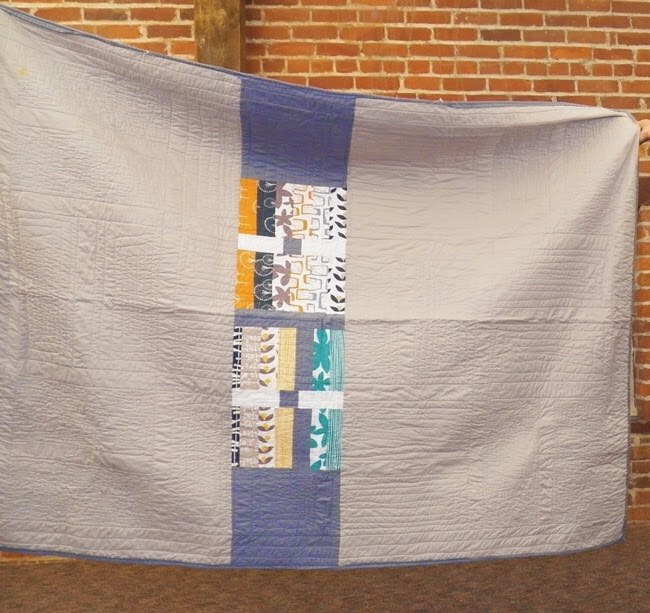 The back of Robin's quilt.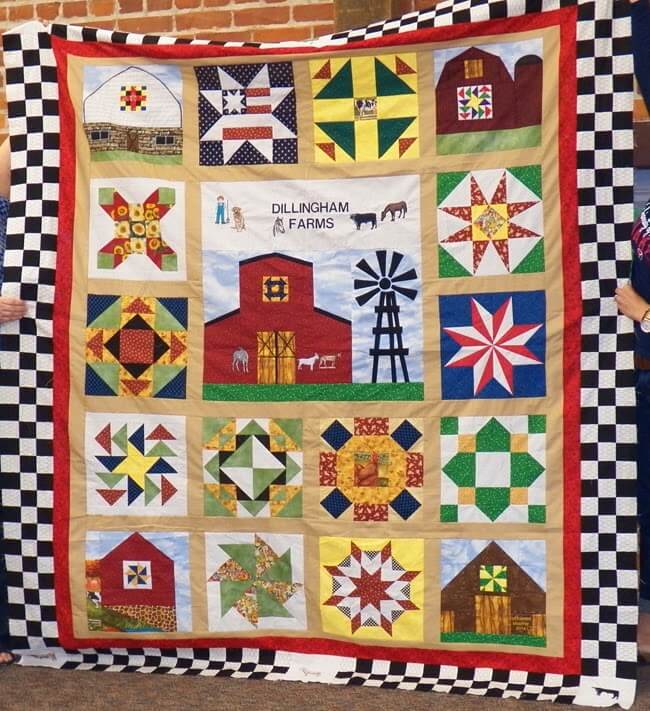 Ruth made this quilt for her brother who owns Dillingham Farms. The borders of the quilt include machine embroidered animals and tractors.
Sister Ann finished her Michael Miller Fabric Challenge quilt top!