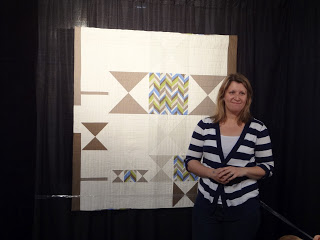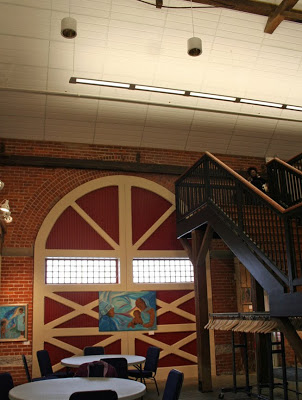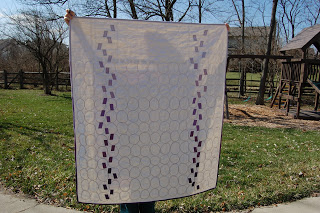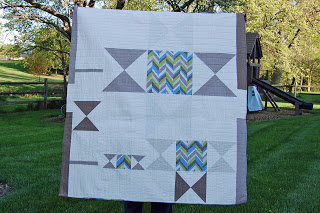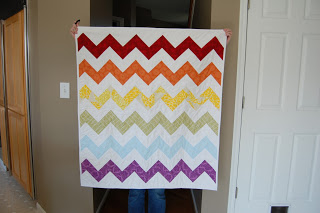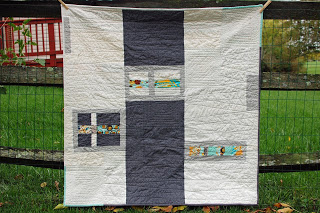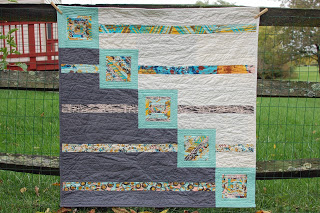 MEMBER SPOTLIGHT QUESTIONS:
Tell us a little bit about yourself –
I'm originally from the Dayton, Ohio, area and ended up in Cincinnati after graduating from
UC. My husband and I just celebrated our 12th year of marriage. We have two kids, ages 3 and
6. I work full-time in an industry that is very standardized, so quilting and other craft endeavors
allow me to fulfill my creative side. My grandmother owned an independent craft supply store
when I was little, and I spent hours crafting with her when I was a kid. It's hereditary!

Tell us about your quilting history –
About 5 years ago, I started a family blog. I stumbled onto a craft blog, followed the links
to others, and my mind exploded! My aunt is a skilled traditional hand quilter, but I was
introduced to modern quilting through craft blogs. My first quilt was one I made for my
daughter when she moved from her crib to a toddler bed 4 years ago. It was very simple…just
strips of fabric sewn together with a simple pieced back.
What is your favorite thing about quilting? What is your least favorite?
I love the acts of designing and piecing. But if I could pay someone to cut for me, I would!
In what room of the house do you sew? Tell us about your sewing/quilting/crafting space.
Our guest room doubles as my sewing room. I sew on a long folding table that holds my
machine, serger, and cutting mat. My ironing board is stationed next to the table. My fabric is
stored on a metal shelving unit stuffed in the small closet. I'm trying to convince my husband
that we don't really need the bed anymore! I'd love to have a proper cutting table in there.
Tell us about your machine(s)
I sew on a Janome 3160 QDC, which I got about 2 years ago. I am spoiled by its one button
thread cutter (my favorite feature). I keep my first machine, a simple Husqvarna Daisy, around
for friends and as a back-up.
Do you like to have multiple projects going at once or do you usually finish one before
starting another?
I have total project ADD. I can't help starting another project in my mind before I get one
finished. I like to mix in some instant gratification projects to keep my interest.
What was the best thing you have in your sewing room/studio to help you organize it?
I have some Ikea ceramic pods on a rod on the wall that keep most of my sewing notions and
cutting supplies up high. It keeps them tidy and away from little hands.
What is your current fabric obsession (color, line, style, etc.)?
I'm drawn to neutral colors, so I love the Parson Gray lines. And I dream of making projects out
of Nani Iro fabrics…just need to save my pennies!
What tool could you not live without?
I'd love to say my rotary cutter, but it's more like my Clover seam ripper.
Do you do any other sewing besides quilting?
I am definitely a poly-crafter. I like to do a little bit of everything: sewing for my house, making
clothes for my kids, and many, many stuffed animal repairs.
Is there a technique on your list to learn this year?
Foundation paper piecing. My style is more improv and imperfect, but I'd like to experiment
with this precise technique.
Favorite quilting blogs?
I tend to read blogs that are not exclusively quilting blogs: Wise Craft, Soule Mama, Posy Gets
Cozy, Purl Bee, and all my CMQG friends
What do you generally do with the quilts you make? Give away? Keep? Sell? Show?
I make quilts as gifts and to keep. But I've been lucky to get to make some to show with the
CMQG.
What are quilt project are you currently working on?
I'm working on a baby quilt as a gift and another that will stretch my free motion quilting skills.
Quick 5
Pre-wash fabric or not?
Pre-wash
Pins or Spray to Baste?
Used to spray, but now Pins
Sew to music, TV, or silence?
I mostly listen to podcasts or favorite movies
Celebrity crush?
Colin Firth (I have a thing for British accents)
Dream vacation?
One day I will go to Paris!
http://sarahstitched.blogspot.com