The Cincinnati Modern Quilt Guild held it's July meeting on the evening of the 14th. We met again at the home of one of our awesome members, Sue, who is such a gracious host. Her husband even made us homemade soft pretzels--from scratch--which were to die for. We're a pretty lucky group of quilters here in the Queen City.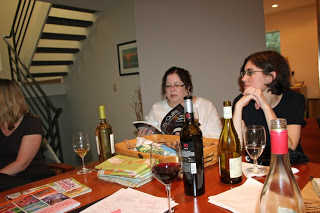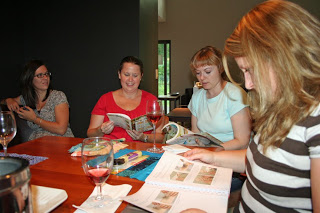 Kelly again did a great job of organizing our block swap this month. Our theme was wonky quit blocks, using blues and aquas, with a punch of color in the center. We used
Quilt Dad's tutorial
, which is seriously the best out there, in my humble opinion. It was the first time for some of our members to make blocks in that style, and everyone's blocks turned out so well. There was such an interesting range of designs, even though all the blocks were made with the same parameters.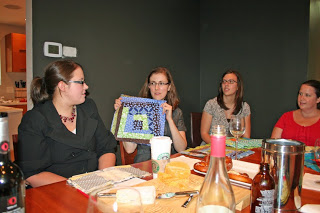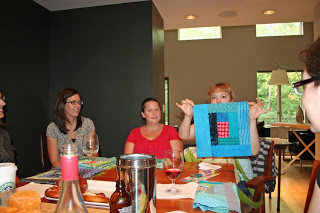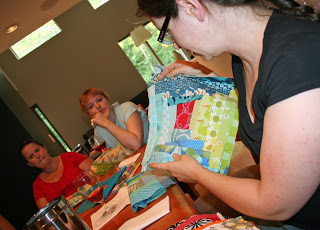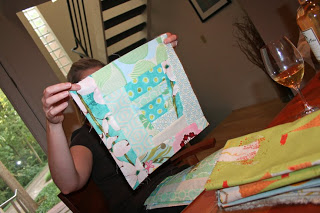 Andie demonstrated the
Strip Twist
pattern, complete with the blessing of Bonnie from
Quiltville
. I think we were all amazed at how quickly the blocks came together, and how they looked much more complicated than they actually were. Andie's choice of fabrics were gorgeous, as well.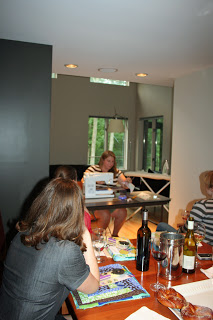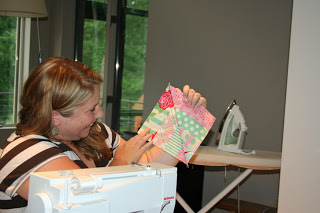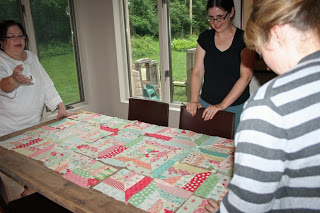 A portion of our meeting was also devoted to show and tell, as it is every month. Kelly showed us a beautiful quilt top that she completed while she was a touring stage manager. Can you imagine sewing this in a hotel room?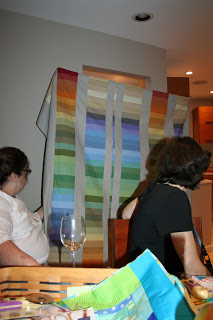 I shared a quilt top that I just made. One of these days it will be finished!
Gillian also shared two adorable baby quilts. I wish I would have gotten pictures of those!
Our next meeting will be on August 11th at 7:00 pm, again at Sue's house. We hope you can all come! Amy will be demonstrating her pattern for scrappy place mats. We're also going to be participating in either another block swap, or perhaps a modern potholder swap. More details to come, but in the meantime feel free to RSVP to
info@carpet-cleaners.info
if you will be there!