Co-Presidents Janine Keaton and Ellen Berninger presiding
Happy Holidays from the Cincinnati Modern Quilt Guild! Many surprises were in store at this meeting! The much anticipated zipper pouch swap, show and tell and celebrating over delicious snacks and drinks.
Ice Breaker: What will you be sewing during the Holidays?
We received a wide range of answers to the ice breaker question! They included:
·
Devoting time to a 10 year old UFO!
·
Traveling anywhere from Texas to visit family, to trekking across Europe for 2 weeks.
·
Sewing gifts for others
·
Working on the lovely CMQG charity quilt for QuiltCon
·
Taking a relaxing break
Don't forget that your CMQG membership fees are due in January. Membership cost is $40 for the year. In addition our elected President, Abby, passed around sign-up sheets for snacks, set up and tear down and bee blocks!
The votes are in, and we have new Guild officers in the New Year. They are as follows:
1.
President – Abby Graham
2.
Vice President- Amy Thonnerieux
3.
Treasurer – Christine Doyle
4.
Secretary – Natalie Crabtree
5.
Member at Large- Carol Caulkins
6.
Education – Dana Kuhnline
Tara showed us her colorful batik quilt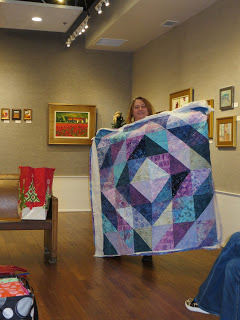 Tara also used her mathematical skills to add one way sashing into this darling quilt
Ellen showed us her Holiday quilts for her goddaughters
Abby shared her completed GenXQuilter workshop quilt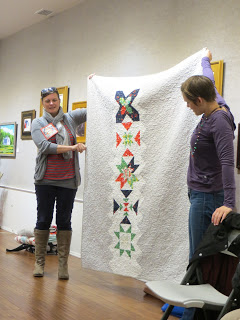 Christine brought a gift for her mother that includes bright Kaffe Fassett fabrics. A matching one for her father is in the works!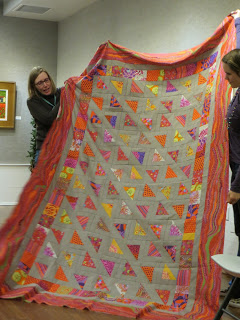 Holly brought an adorable strawberry themed quilt for her mom, as well as a modern table runner
Kay impressed with a Texas quilt for her relatives. She will be gifting this during her travels. She also presented her 'Man Quilt' that is also a gift!
We look forward to our next meeting on January 11, 2017. May the New Year bring you fabric, endless bobbin thread and much joy!