June 11, 2014
Mug Rug Swap
We kicked off the meeting with the mug rug swap. Brooke, Sister Ann, Ruth, Robin, and Christy each created fun and bright pieces to swap.
Brooke, Sister Ann, Ruth, and Robin each holding the mug rugs she made.
Business
Modern Quilt Guild Showcase at International Quilt Festival:
Entries for the modern quilt showcase at the Houston Quilt Festival will be accepted until July 27.
Click here for more information.
QuiltCon:
Quilt Show: Entries for the quilt show at QuiltCon will be accepted starting July 1, 2014. There will be cash prizes for first, second, and third place, or you can submit your quilt for "exhibit only."
Click here for more on the QuiltCon quilt show.
Giveaway Quilt Challenge: Create an original quilt pattern sketch and enter it into this contest. The winning design will be made into a pattern to be sold to benefit MQG, and the winner will receive a prize of $500.
Click here for details
.
Michael Miller Challenge: The deadline for this challenge has been extended to July 25! Make your quilted item using the fabrics we received and upload an image of the item to the MQG site by that date. Remember, the Cincinnati Guild is encouraging you to make a quilt to donate to Project Linus (the minimum size for these quilts is 36" square).
Pat Sloan Lecture and Workshops:
The Ohio Valley Quilt Guild is hosting Pat Sloan, quilter and radio personality, on August 3 and 4.
Click here for more information on the all-day workshops.
Cincinnati Quilt and Fiber Artists:
This group is having a gallery show through the end of June at
Gallery Veronique at Harpers Point
. Carole from our guild has pieces in the show.
#OHCraft Sew-In:
Guild member Kara Sanders is organizing a sew-in at Shawnee State Park the first weekend in October.
Click here to go to Kara's blog for details.

Show and Tell
Brooke's Star Fall Quilt (pattern from Fresh Lemons).
The back of Brooke's quilt. This block didn't turn out the right size for the pattern, so it became a design element on the back. Ta da!
Carol's Duke baby quilt.
Christine's Michael Miller Fabric Challenge entry. She'll be donating the quilt to Project Linus.
The back of Christine's quilt where she used most of the leftover challenge fabric.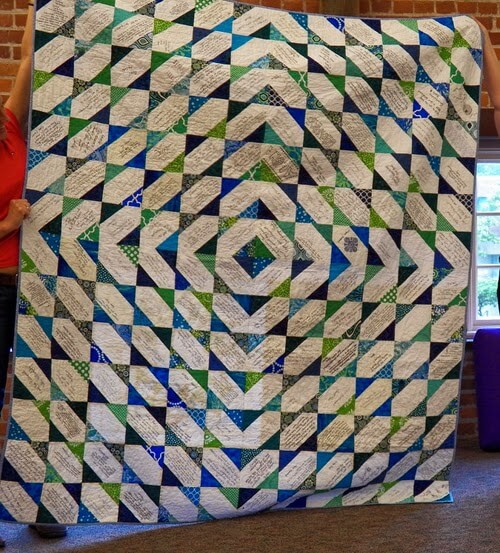 A signature quilt Ellen made for her boss as a retirement gift. Employees from all over the country signed blocks.
The back of Ellen's signature quilt. This is also the first quilt Ellen quilted on her new long-arm!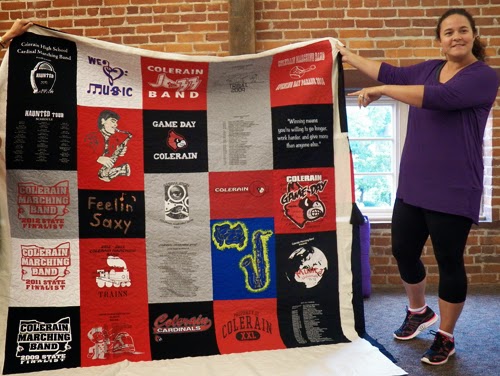 Christy made this, her first T-shirt quilt, for her nephew.
Two Delectable Mountain blocks Jessica made for a quilting bee.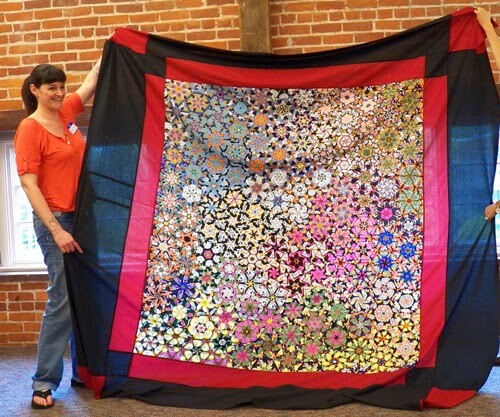 This is Pascale's first quilt! She chose a kaleidoscope pattern that used 1200 triangles. (She may go for a slightly easier pattern next time.)
Ruth cut the backing for a previous quilt too small, so she made this quilt to go with the mis-cut backing.
Amy made this block for Michelle's traveling quilt.
Farewell, Jessica!
Tonight was President Jessica Rider's last meeting before she moves with her family to Nashville. To show their appreciation for all her hard work, several members went all out on snack-time treats. Thanks to all who brought something! The guild also presented Jessica with a gift certificate for a new modern fabric store in Nashville.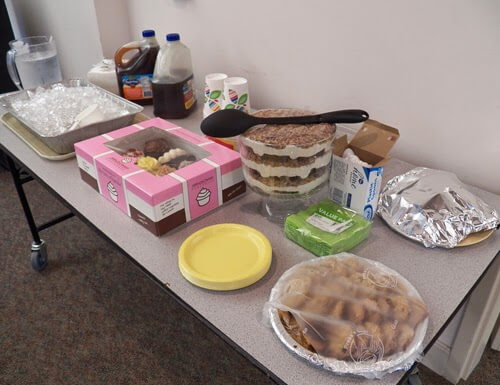 And just to make sure the hole in our collective hearts caused by her absence was extra huge, Jessica created a truly awesome Quilt Trivia game for us to play. She came up with five questions in each of five categories: Modern Sew Modern; Fabric; Technique; History; and Name That Block.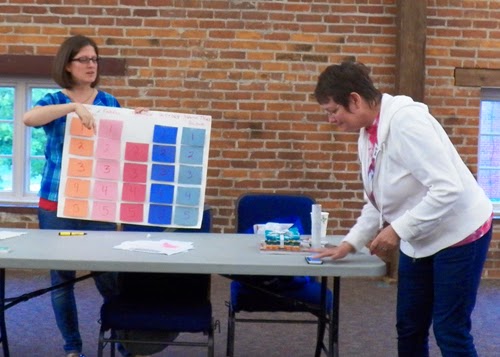 Two contestants came up to the table to answer each question and rang in on cell phones with a downloaded game show buzzer app. The person who answered the question correctly earned participation points.
At the end of the fun and lively game, Jessica selected our first participation point winners (participation points are earned by attending sew-ins, bringing snacks to the meetings, and participating in show-and-tell and swaps). Prizes included a fat quarter bundle, a modern sewing book, and a collection of tools and notions. We'll start new with an empty participation point bucket at the July meeting.
July Meeting
Remember to bring your traveling quilt blocks to show off. And we'll be welcoming Michelle Kirby as our new CMQG president!