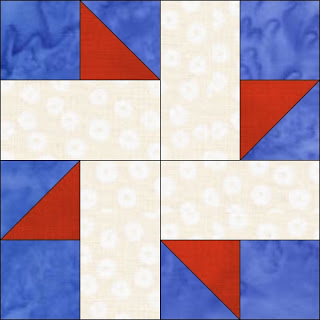 Hi, all! As promised, here is some additional information on charity quilts that the guild will participate in, as discussed at our meeting last week. Member Andie Johnson wanted me to pass this information along to you. You've got a couple of choices on ways to participate, or you can do both if you'd like!
Members can make the Quilts of Valor 10th Anniversary Block. The directions for the block can be found
by clicking this link
, which also lists the address where the completed blocks need to be sent. The blocks need to be received by November, 2013.
We'll also be making a CMQG quilt top made from blocks we collect at the September meeting. We need at least 25 of the following blocks: a star block of the quilter's choosing, made out of dark blue/navy, white or cream, and red fabrics that measures at least 8 1/2" square, and no larger than 16" square. It can be any star block, but we ask that they be made with modern fabrics, civil war fabrics, or a mixture of both. (No novelty prints, please.)
Here are some tutorials for star blocks:
Solstice Star Series (5 tutorials)