·
Thank you to those who participated in the Sew-In last month.
o
We completed 10 quilt tops for Quilts for Kids
o
Discussion of sew-ins: attendance has been low, so we may possibly drop to 3 a year, or maybe a Friday or Saturday night sew-in and potluck.
·

Let Heather know if you would like to be involved/coordinate the
Quilters SOS interviews for the CMQG.
o
Project of the Alliance for American Quilts
o
The interview, audio and transcription are then archived at the

American Folklife Center at the Library of Congress
o
It would be a large task to undertake, but I think it would be really great for all of us to document our stories
·
You've got a couple more weeks to get your Challenge 4 quilts in! Deadline is 9/30
·
Post cards—we have more if you need them.
·
Membership cards were passed out.
·
Jo-Ann's discount cards
o
Takes 3-4 weeks to get card.
o
Help us decide what you'd like to do and what colorway you'd like!
Centennial Barn Harvest Festival; Sunday October 16. Guild agreed to participate in this event as a fundraiser. People will donate items to booth to raise money for the guild.

Maybe bring 1-2 items to donate.

Volunteers would be needed to man booth.

Items could be brought to next meeting.

$10 to sign up for a booth (paid).

Sign-ups for booth on blog to volunteer for times and items to bring.
§
Holly had suggested that we might want to do a modern rendition of a traditional block
§
Or, should we all work with the goal of creating something that will be displayed together as a group in an exhibition
-
Each create something on our own, but with a very common theme
that is determined by the ultimate goal of grouping them together to form an art installation
-
Ideas discussed at meeting: Maybe take different pics of landmarks
and make quilts inspired by it / or people take parts of skyline and
make blocks inspired by it / or use kona as a unifying color
·
Next meeting October 12
·
Next month's swap:
Table Runner Swap
; must be Autumn or Halloween inspired; no signups;
Dimensions 15x35
Books recommendations – Gillian brought farmer's wife.

She's been working on blocks, check out her blog to see her progress.
Color Theory demo by Victoria.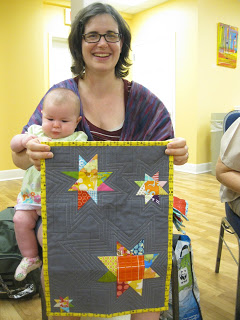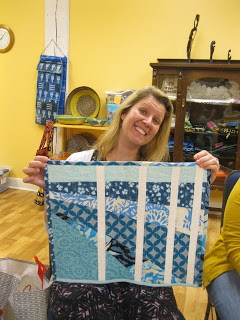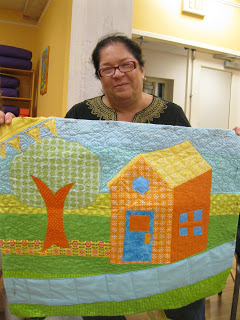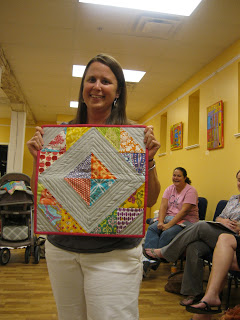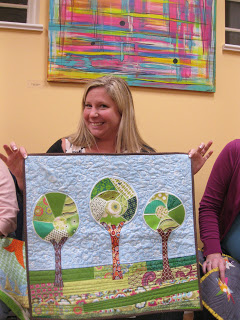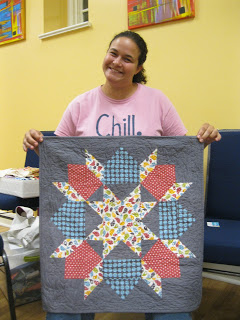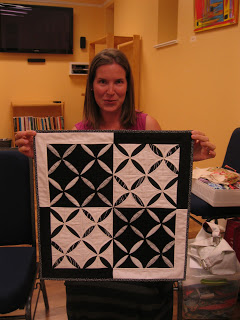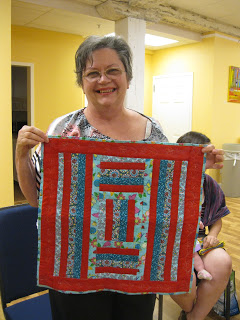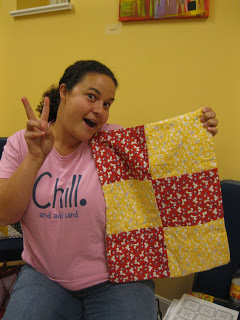 First quilt made by Christy's daughter: "Teenager!"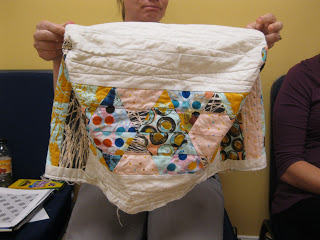 Danielle's Habitat Challenge sewing machine cover.