Hello again!
In a truly grand and impressive fashion, I put off writing this blog entry until a new year had been rung in. But, better late than never, so enjoy the photos and tales from our November meeting!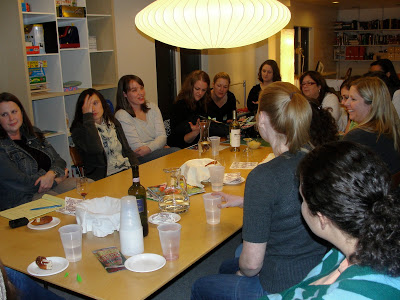 Here we all are enjoying a sensible glass of wine and homemade soft pretzel.
Quilting, food and wine. Things could be worse.
WELCOME
to two new members, Meghan and Loretta! It's so nice to keep having new faces at our meetings!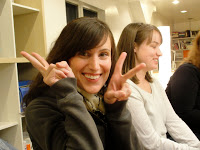 Hi Meghan!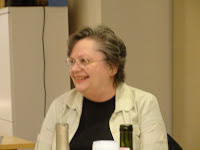 Hi Loretta!
QUOTE OF THE MONTH
is attributed to Amy T. who said, "Right now I'm making a lot of baby quilts because people keep pro-creating." (I hear ya', Amy.)
WOOHOO
! Cincinnati has a new fabric/quilt shop opening in February—
Sewn Studio
! Keep a look out on their website for more info, but we know they're going to be selling lots of modern fabrics and patterns! YAY! (I may need a second job....)
THANK YOU
to Andie for organizing the December sew-in and the December dinner meeting! Both sounded like great successes! Also, thank you to Heather for giving us a re-cap of Fall Quilt Market! Everyone enjoyed hearing about her experiences and looking through all of the great pamphlets and fliers she collected!
CHECK OUT
these blogs and sites that were mentioned during the meeting:
LEADERS
: We decided to ask for volunteers to head up various areas of running and organizing the guild so that no one person felt either left out or overburdened. Thank you to everyone who volunteered to head up one of these areas!
Reminder: Please run any ideas by the officers before committing the guild to anything.
Treasurer
(newly appointed): Danielle
Blogging
: Kelly and Heather
Program Line-up
: Victoria
Retreats and Sew-In
s: Andie, Christy and Sue
Membership
: Holly and Lynn
Community Service
: Loretta
Refreshment Organizer
: Kara and Lynn
Meeting Spaces
: Sue
Publicity
/
Shows
: Andie
Swaps
: Kelly and Amy
SWAP:
Since the holidays were upon us already at the November meeting, we decided to swap next at the January meeting, and we'll be swapping Mug Rugs (essentially little place mats to use for a mug and a snack). Each member who wanted to participate brought in her favorite mug to inspire the person creating her mug rug! Almost everyone at the November meeting is participating, so it'll be very exciting to see all the finished mini-quilts. (Note: If you can't attend the January meeting but pulled someone's name for the swap, please get your quilt to one of the other members prior to the January meeting so we can deliver your creation for you!)
There aren't a lot of guidelines on this one, ladies—no strict size, color or pattern guidelines. Just look online and you'll find lots of tutorials. Have fun, and use your person's mug for creative inspiration! Here's one for you from The Curious Quilter: Mug Rug Tutorial.
FUTURE SWAPS:
Amy and I will be putting together a list of upcoming swap for 2011. If you have something you'd really like to see on that list, let me know by leaving a message on this blog entry or on the facebook page before the January meeting.
SHOW AND TELL
: As always, we had a great show and tell! Thank you to everyone who participated! I can't wait to see what you'll have to show us in January!
HAPPY NEW YEAR!!!!!!!!!
---Kelly