November 11, 2015
St. Clare Convent
President Michelle Kirby presiding
Business
2016 Board Members:
The following members have volunteered to serve on the 2016 CMQG board:
Co-Presidents: Janine and Ellen2
Treasurer: Abby
Secretary: Wendy
Member at Large: Robin
Thank you, all, for your service! We are still looking for chairpersons for the Education and Charity committees. Please contact Michelle if you're interested.
December Meeting:
The December meeting will be our annual holiday party. Please bring a dish to pass and your swap item (if you signed up at the November meeting). We will have show-and-tell so be sure to bring your latest work, too.
QuiltCon Charity Quilt:
Thanks to the hard work of Ellen, Teresa, Gillian, Annie, Abby, and Dorothy the CMQG QuiltCon charity challenge quilt top and back are complete! The theme of the challenge was improv with intent. Our members improv pieced the colored sections and then appliqued the seven hills (of Cincinnati) over the white background. The colors they used were selected by the QuiltCon challenge team. A huge thank you to our members who worked on this quilt! It's awesome! Sarah will be doing the quilting. The quilt is due to QuiltCon in February 2016.
QuiltCon charity challenge quilt top with the seven hills of Cincinnati.
The charity challenge quilt back with section of improv pieced fabric.
Education Challenge
At the October meeting, Holly gave a presentation on free-motion quilting. Members practiced the techniques and brought in their work to share at this month's meeting.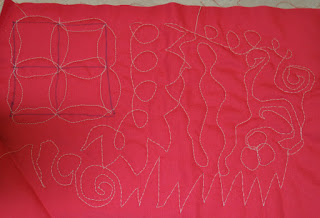 Abby's practice quilt sandwich.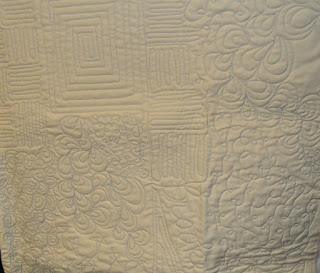 Brooke's practice quilt sandwich.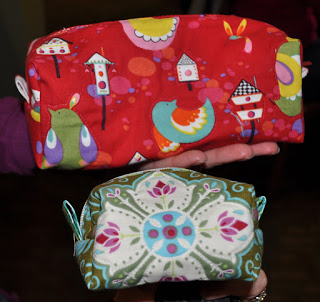 Janice practiced by quilting around the motifs on these pouches.
Round Robin
The members participating in the Round Robin/ Traveling Quilt swap brought their blocks to show.
Abby started making these flying geese for Kara's quilt.
Annie made these blocks for Shonna.
Brooke make these blocks for Kara's quilt.
And Brooke make some blocks for Kathy.
Ellen2 made this block for Brooke.
Ellen make two blocks for Annie's quilt.
Another block from Ellen2 to Brooke.
Janine added the tumbler blocks to Ellen's quilt.
Kathy made two blocks for Ellen2's quilt.
Robin made this block for Janine's winter-themed quilt.
Shonna made two blocks for Carrie's nature-themed quilt.
Wendy made two blocks for Robin's quilt.
Show and Tell
Annie made this quilt from scraps.
Brooke made this laptop case for her aunt. Brooke used flannel on the inside of the case.
Christine finished this quilt to be donated to the Children's Home of Northern Kentucky.
Dana made this car quilt which includes some hand embroidery.
The back of Dana's quilt.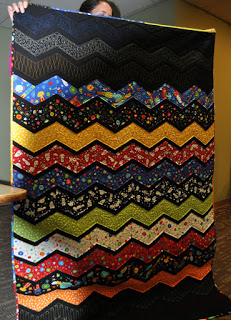 Holly started this quilt when her oldest was a baby. She added to the length to make it bigger now that he's older. The backing fabric is minky.
Janice made this cool television pin cushion.
The inside of Janine's bag.
Michelle made advent calendars for her daughters.
Michelle also brought this holiday pillow to share.