The day before our May meeting, we learned we would no longer be able to hold our meetings at the Centennial Barn. Trying to find a centrally located place that can fit all of us, that has availability for the same day every month with parking and that meets our budget has been a challenge. So with that being said, until further notice, our meetings will be in the Peace Center located in the Franciscan St. Clare Convent at 60
Compton Road
Cincinnati
,
OH
45215
. (The Barn is at 110 Compton Road.)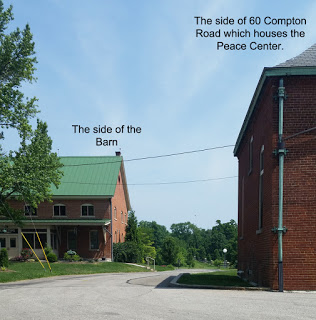 As you walk toward the Barn from the road or front parking lot, the Convent building is on the right.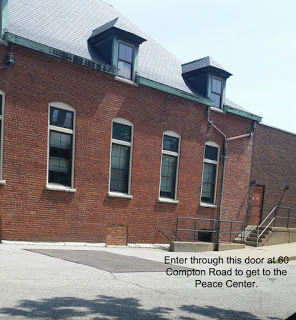 Enter through this door, which faces Compton Road, to get to the Peace Center.
The new room is actually very nice and has great windows and will fit all of us. The woman running the Peace Center has been very kind and extremely helpful. Other than a good number of people wanting a better location (drive-wise), this room seems like it will be a great substitute.
Michelle will be at the location by 6:45 to direct people to the correct door in case there's some confusion. We can still park where we did when we went to the Barn—you'll just take a slightly different walking path.