November 12, 2014
Centennial Barn
Business
Guild Elections:
Start thinking about running for CMQG offices. Let Michelle know if you're running by the January meeting. Elections will be at the February meeting. New officers start at the March meeting. The officers we elect each year are president, vice president, secretary, treasurer, and member-at-large.
Next Round Robin/ Traveling Quilt Session:
Sign up for the next round robin/ traveling quilt session at the December meeting. Then bring your starter block (and any fabrics you'd like the other members of your group to use) to the January meeting to kick off the fun.
December Meeting:
This meeting will be a potluck dinner. Bring the food item for which you signed up, or if you didn't get a chance to sign up, bring your favorite dish to pass. Also, if you signed up for the holiday swap, bring the gift for the person to whom you were assigned.
Show and Tell
A baby quilt Annie made.
Quilt Annie made for a St. Ursala student.
Coordinating quilt Annie made for another St. Ursala student, the sister to the first.
A wall hanging Annie made based on the movie Up for a friend's new baby whose nursery is Disney themed.
A foldover clutch Abby made.
Family reunion quilt that Kim made. It's been passed through the family via white elephant auctions.
Charity quilt Shonna started at the October sew-in and finished at home.
Quilt Ruth made in honor of her hometown of Lockland, Ohio. In the making of this quilt, she learned that sewing buildings that look like buildings is kind of hard.
Carole's been working on her hexie challenge project.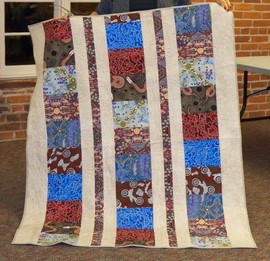 Lesley made this quilt with aboriginal fabrics and a clean design.
Pam finished a few more Swoon blocks for her quilt. She's not sure if the pink one will make the cut, though.
Teresa's Christmas wall hanging.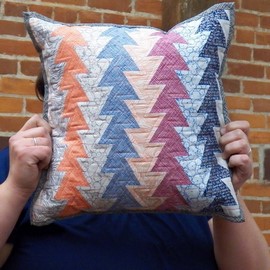 Pillow Brooke made using a Jaybird pattern.
Brooke's adorable fox quilt made from an Elizabeth Hartman pattern.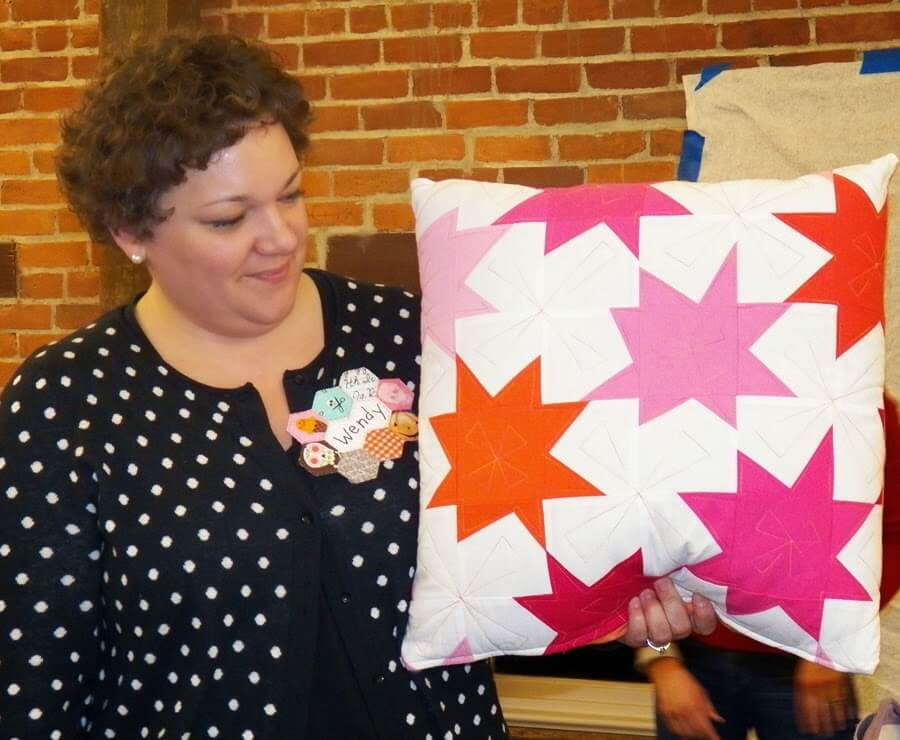 Wendy's wonky stars pillow.
Wendy's pinwheel quilt made with zombie fabrics. Jill did the quilting with a spiderweb motif.
Heather's improv pineapple quilt that she made with about 80 different colors of fabric.
Christine's lattice quilt top that has some stretching issues due to fabrics cut on the bias.
Robin's modern sampler quilt.
A quilt Amy is making to give as a wedding gift.
A charity quilt Michelle quilted on Ellen's longarm machine. Michelle used the cheater binding technique (where you fold the backing forward to make the binding), but she found it harder and more time-consuming than a regular sewn on binding.
Janine's Micheal Miller pastel challenge quilt. Her goal was to make a modern quilt using the challenge fabrics.
Carole's Michael Miller pastel challenge quilt. She used two layers of batting to achieve the very raised parts of the quilting.
Education
Carrie and Michelle talked about modern quilting and how that sets this guild apart from other creative guilds in the city. As Michelle stated in her follow-up e-mail:
"The bottom line is, we are the Cincinnati
Modern
Quilt Guild. There were other guilds in town when this baby was created, so it was created with a specific purpose to serve a particular group. It's not just another local quilting guild. It's a
modern
quilting guild.
"We want to
inspire
people with the
modern
aesthetic that most people joined this group to see, to learn from and to experience. You should come to the
modern
quilt guild to show
modern
works. Someone gave a great example
last night
in that you go to the Museum of Modern Art expecting to see
modern
art. Our Guild is no different."
"Thank you for helping us hone in on recapturing what this guild is intended to be....the Cincinnati Modern Quilt Guild."