July 9, 2014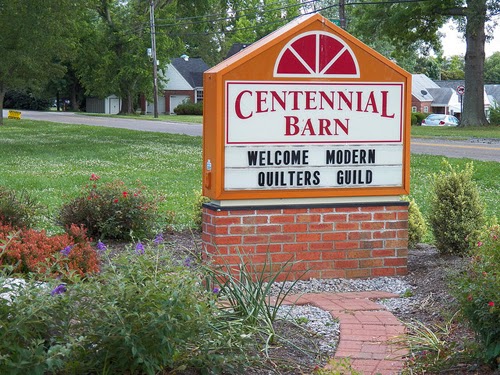 Business
Email Updates:
If you haven't been receiving an e-mail from the guild before each meeting, let us know so we can add you to the list. Email
info@carpet-cleaners.info

.
Education:
Is there something you want to learn? Or something you want to teach? Let us know! Email
cincinnatiquiltguild@gmail.com
or contact Brooke.
MakerFaire:
We've applied both as vendor and exhibitor to this event. We'll find out August 1 if we're in and announce it at the August meeting. If we do get in, we'll be asking for volunteers to staff our booth. The event will be held September 13 and 14 at the Cincinnati Museum Center.
Click here for more information on Cincinnati MakeFaire
.
Sew-In: Join us for our next sew-in on Saturday, August 23, at the Blue Ash Library. We'll be there from 10am to 5pm.
August Swap: Modern fat quarter swap—bring one, take one. Limit 3 fat quarters per person.
Modern Quilt Guild Site:
Members, if you haven't visited the MQG site yet, check it out! You can access past webinars, sign up for new ones, look at lots of great modern projects, and more.
Click here to go the Modern Quilt Guild site.
Michael Miller Challenge: The challenge is officially over, but we'll be collecting finished quilts at the August meeting for Project Linus drop off. Here are the Michael Miller quilts shown at the July meeting.
Carole designed this quilt herself and fussy cut each of the triangles. She quilted it on her home machine.
Carolyn made her first quilt! She poured herself a drink and started cutting! She folded in the edges of the front and back and sewed them together rather than bind the quilt.
The back of Carolyn's quilt.
Cass made this quilt for the challenge.
Ellen designed this quilt to look curved, but all the seams are straight.
The front of Harriet's challenge quilt.
The back of Harriet's challenge quilt.
Susan started making a Disappearing Nine-Patch quilt with her challenge fabrics, but she didn't like it. So she improvised this design with the leftover fabric.
Janine used every speck of challenge fabric for her quilt.
As did Holly for her challenge quilt.
Back of Holly's quilt.
Detail of Kathy's fox.
Show and Tell
Amy made this quilt using blocks from two different swaps.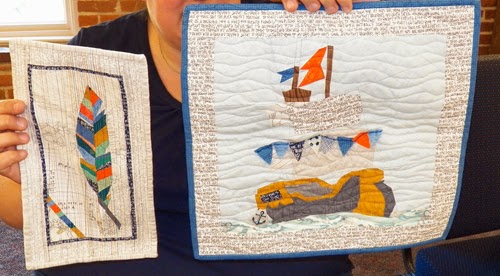 Brooke received these two pieces in a swap where she said she liked pirates and Carolyn Friedlander fabrics.
Carrie received this piece from an Australian quilter in a recent swap.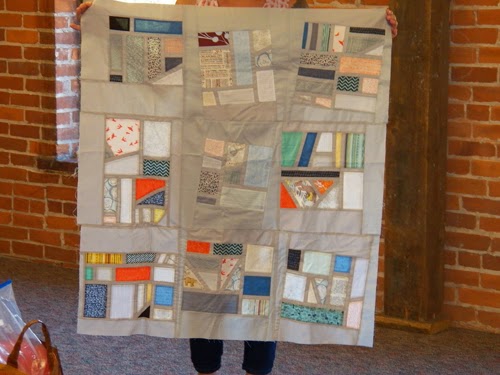 Carrie's improv block quilt.
A block from Carrie's Charley Harper Swoon quilt that she's going to hate giving away.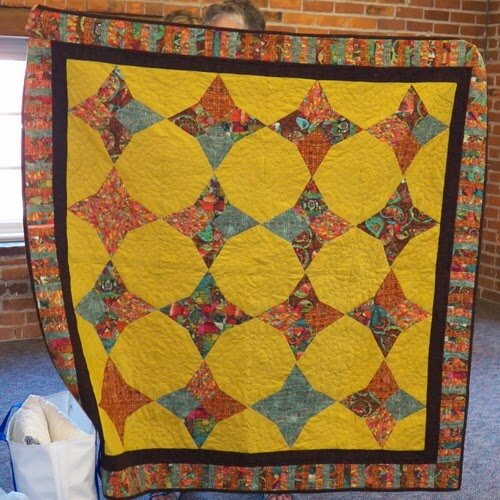 A second quilt by Sandy.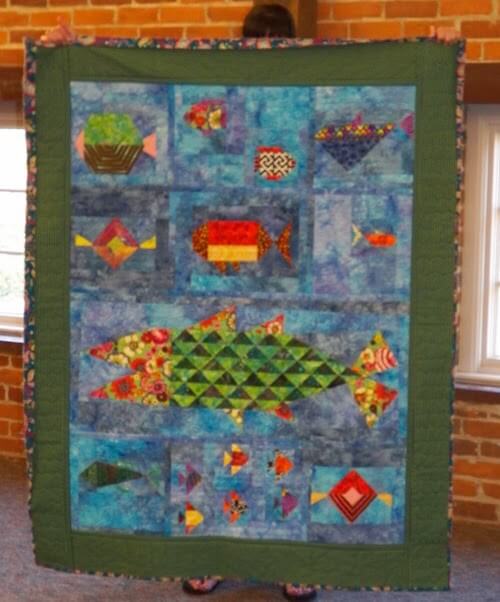 Pascale made this quilt for her brother using the quilt-as-you-go method. Each block is a different fish with different quilting.
Detail of Pascale's fish quilt.
Christine made this quilt as a gift; the question of whether it looked too much like a baby quilt resulted in a lively discussion.
Ellen made this quilt to practice on her new long-arm. Each column is a different quilt design.
The back of Ellen's practice quilt.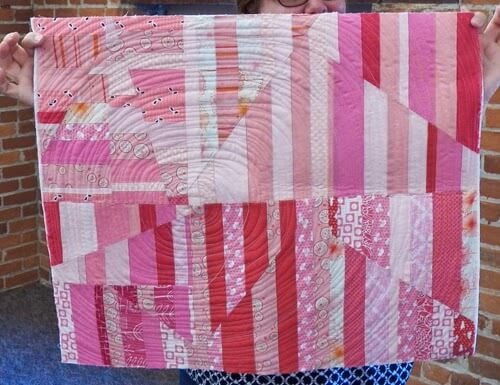 Ellen started this piece in Carolyn Friedlander's class at Sew Down Nashville. She didn't like her quilting, so she just kept adding more until she did.
Jill made this zippered bag in a chevron design, enlarging the pattern slightly.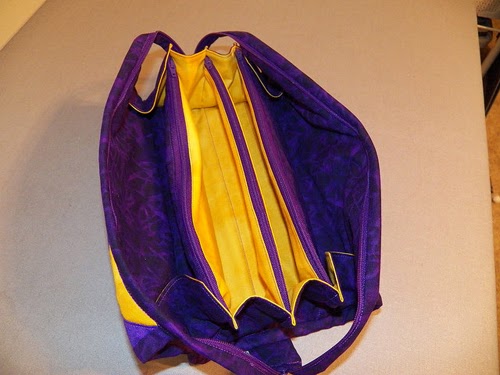 The inside of Jill's zippered bag.