March 12, 2014
Cincinnati Modern Quilt a Guild Meeting
Business
Dues: If you have not yet paid your dues for 2014, please do so at the April meeting. The dues for 2014 are $40.
Michael Miller Fabric Challenge: The national Modern Quilt Guild is sponsoring another fabric Challenge! This time, twenty-five CMQG members can sign up to receive six fat eighths of Michael Miller's Petal Pinwheels line. For the Challenge, you can add any solid or Michael Miller print, and the finished piece must be quilted. The winner of the Challenge will receive a year of Michael Miller fabric! The deadline for the Challenge is June 23. The fabric will be distributed at the April meeting or contact Jessica (she'll let us know when it comes in). Click here for more info on the Michael Miller Fabric Challenge (to access link you must be logged into the MQG website).
In addition to the guidelines in the national Challenge, CMQG is challenging its members to make quilts with their fabric and to then donate those quilts to Project Linus. The quilts will be collected at the June and July CMQG meetings and donated to the Cincinnati chapter of Project Linus, which delivers quilts to children in need in Butler, Clermont, Hamilton, and Warren counties through hospitals, fire departments, crisis centers, and camps. The smallest quilt size they accept is 30" x 36", but other than that, quilts can be any size. The quilts should not have buttons or embellishments attached and must be smoke- and pet-hair free. See the Project Linus site for more info.
Quilt Con: Will be held February 19-22, 2015 in Austin, TX. Registration for members is June 24. The conference filled up very quickly last time, so plan to jump online as soon as registration opens! Click here for more on Quilt Con.
Modern Quilt Guild Showcase at International Quilt Festival and Market: There's a call for entries to participate in a Modern Quilt Guild Showcase. Submissions will be accepted from May 30 to June 27. The quilts for the show will be chosen and the makers will be notified on August 1. Click here for more information and for the entry form.
April Swap: Make and bring a small bag using modern fabrics to swap at the April meeting. Any kind of bag—zippered, drawstring, tote—is great.
May Meeting: Bring back your Traveling Quilt/ Round Robin blocks and show them off!
Look for the Traveling Quilt/ Round Robin and Education portions of the meeting in their own blog posts. Coming soon!
Show and Tell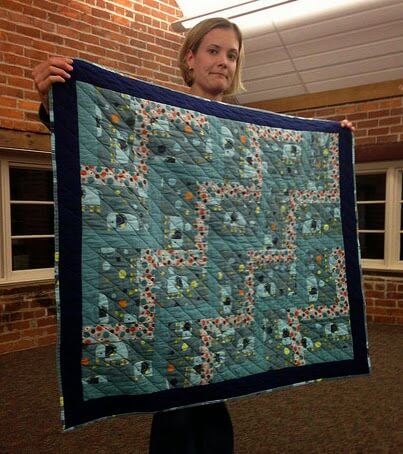 Robin made a baby blanket for her son. This is her second quilt and the first one that she quilted. Yay, Robin!
And another quilt by Robin!
The back of Christine's quilt.
Heather will soon have a tutorial for how to make this quilt. In it she used American Made Brand fabric by Cloth Works. The fabric was made entirely in the U.S. with a fine thread and a light feel.
Carole participated in a challenge and created this bird, which she appliqued on and then thread painted. She used Peltex inside the wall hanging for extra stiffness.
Kay used an Amy Bradley pattern for this quilt and free-motioned it on her home machine.