In the wake of events like last week's, we often feel so much pain, but wonder what we can do to show help and support. Two other modern quilt guilds have come up with great projects to do just that.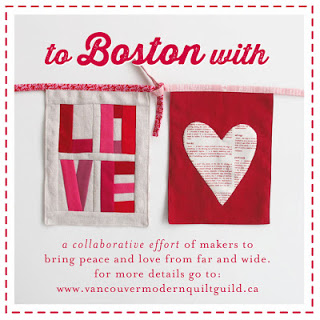 The
Vancouver MQG
is getting together a beautiful display of love for the city in the form of handmade flags. They will form banners all over the Boston in June. I can't even imagine what an encouraging sight this will be! It's very simple sewing- just a rectangle about 8" by 6" with a length of binding on top.
Please go to
their site
for complete details and sewing instructions.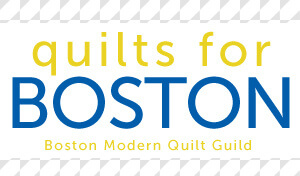 The second opportunity comes from the
Boston MQG
. They are collecting blocks from all over to make quilts for those effected by the marathon explosions. They must be 12.5" tall by the width of your choice and they must be in these colors, taken from the Boston Marathon logo: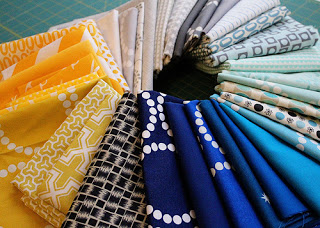 Find the complete details for this project
here
.
Any pieces you can sew for either of these projects by our May meeting on the 8th or our sew-in on May 11th, will be shipped together by our guild. I'm excited to see what beautiful things we can make to show the city great comfort in this time.