Carmen from IQF is interested in our idea for the exhibition at QF 2012 (ie. Something to do with Ohio). She's talking with her colleagues and will get back to us.
Sew-In is Aug. 27th from 10:00-3:00 at the Centennial Barn - Thanks to all who came!
Challenge 4 of Project Modern is up! The challenge is to "find your own voice"

judge is Denyse Schmidt

entries are due by September 30

details are on the MQG blog
Heard back from Indy MQG, didn't sound like they were too interested in a meet-up this year, so maybe we'll put those plans on the back burner
Look at the beautiful work these ladies did on the Habitat challenge: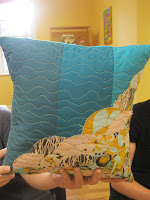 by Kelly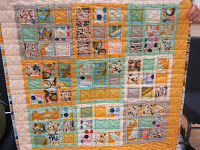 by Holly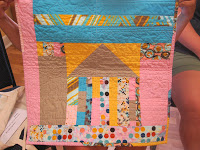 by Lynn - front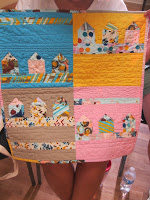 by Lynn - back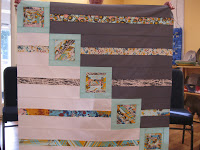 by Sara - front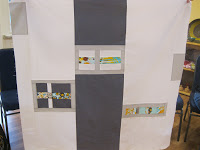 by Sara - back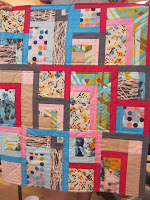 by Gillian
Lynn—sign-up sheet for snacks & drinks
Post cards are in!

Only had funds to order 100

We'll all take 5-6 cards, use them as you'd like

Post around town, in your favorite fabric store/quilt shop, local libraries, etc.

Thank you again to Holly for designing them!
Thanks to Gillian for printing out membership cards for us. These will be distributed at the next meeting.
Q

uilters' SOS program (Save our Stories)

Project of the Alliance for American Quilts

Anyone can be interviewed, but there are guidelines that we need to follow during the interview

The interview, audio and transcription are then archived at the

American Folklife Center at the Library of Congress

We will be discussing this further to decide if we are going to do this as a group. Interested in spear heading this effort? Talk to Heather.
Kona Challenge

Help us decide what you'd like to do and what colorway you'd like! Check the blog for a post about this!
Nancy Soriano will be speaking to our group sometime this fall, probably during either October or November. We're still working out the details, and I'm not sure if it will be during our scheduled meeting or on another date when she's in town. I'll keep you posted!
Simplicity is going to send us some of their quilting tools to work with. I'm not sure what we'll get, but my contact there said she'd send us a variety of things. Hopefully we'll have them by the next meeting. Note this will not be a challenge as we had previously discussed.
Country Living Fair, Ohio Village, Columbus, Sept. 16-18
Next meeting September 14
Next month is a Doll Quilt Swap - partners were assigned at the August meeting. Dimensions, somewhere between 12x12 to 24x24.
Handmade by Alissa – Action Kivu, benefiting women in the congo, $ teaches women sewing skills to earn $ for their families. Raffles for different fabrics, prizes.
Personal note: Loretta looking for fund-raiser ideas to help out a family member, if you have ideas please contact her.

Thanks to Andi for her presentation on patterns, fabrics and copyright.

To see this month's show and tell visit our flickr page.



Embroidery Swap beauties: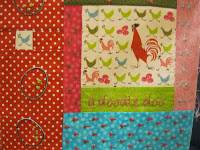 by Janie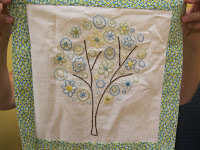 by Christy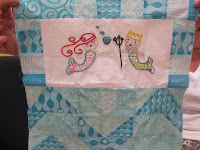 by Lynn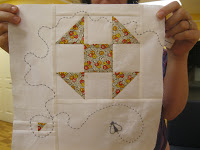 by Gillian
by Amy